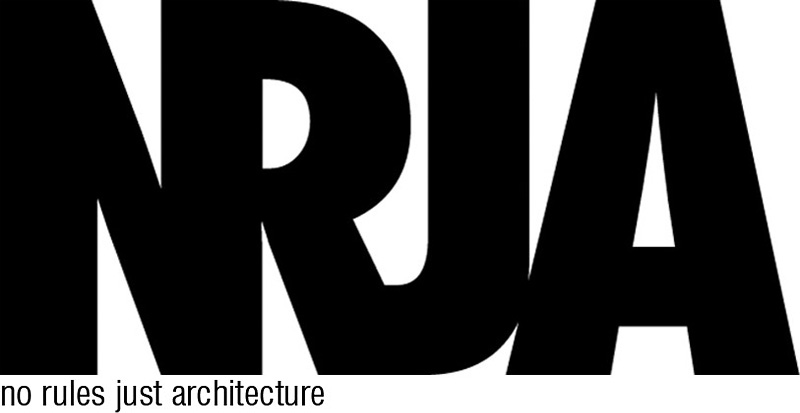 NRJA is a young Riga based architectural practice established in 2005 by Uldis Luksevics (37). The average age of eleven architects working in the office is 25. Our approach is active and we get inspired by creativity and competence of the world around us. Most of our work we get through invited competitions where we always try to propose more than is allowed or required. That is what NRJA stands for – No Rules Just Architecture. NRJA is currently involved in more than 15 different design proposals starting with a high-rise Z Towers in Riga, several large scale multifunctional housing and mixed-use projects, as well as development of a new town square and wharf in a seaside town Pavilosta, W5, a giant block of flats, which includes marinas and boathouses, situated on the waterfront of the lake Ķīšezers, B200, a seven storey residential housing complex, residential housing in Ķīpsala, on the bank of river Daugava, as well as other commercial and residential buildings for our friends. The best-known project is HOUSE OF RUINS – a new family house built inside the19th century ruins of a traditional Latvian barn. Awards: Latvian Architecture Prize, Grand Prix (2006); Interior Digest Magazine, Best Technology Award (2006), nomination for Mies Van der Rohe award.
In our opinion there are two very important "P" `s, which are essential in architecture – positive attitude and professionalism. The main thing is to try to feel and love truthfully and to do things which we really want to do, and to be and to work together with people with whom it is good to be together. That is why there is a place for good music and good books, good relations and good meals in the process of architecture. The process itself is like a game between us, our client and building institutions.

TEST

2018-01-16 02:01:13

Whats up homeboys!

HACKED BY MWTUGI

2016-06-27 00:12:24

MIGUEL

2014-05-17 04:15:36

Great attitude ! Brasil

TEST

2013-02-13 20:02:05

Bonjour! alert('Hacked By Te@ser')

TEST

2013-02-13 19:58:53

Bonjour! alert('Hacked By Te@ser')

TEST

2013-02-13 19:58:43

Bonjour! alert('Hacked By Te@ser')

SRL

2012-10-12 18:41:59

Love us projects. Congratulations!!! From Venezuela c:

DARBA DEEL TE IENāCU

2011-01-20 14:19:21

var arī vienkārši nonemt tos senos datumus un tad jau buus sajuuta, ka kaads to staasta man tieshi tagad nevis triis gadus atpakal :) bet kopumaa interesanti... + man labaak patiik bildes un info ko par jums var atrast google... :)

MADDAM

2010-01-06 11:15:42

Kāpēc,nu kāpēc jūs,kuri esiet izveidojuši mājas lapu,tad tajā ir tik daudz vecu ziņu fotogrāfiju utt.....Nu taču atjaunojiet to ik pa laiciņam. Man,to apskatot,paliek iespaids,ka jūs NRJA esiet bankrotējuši,pazuduši vai kā to mūsu laikos moderni sauc?