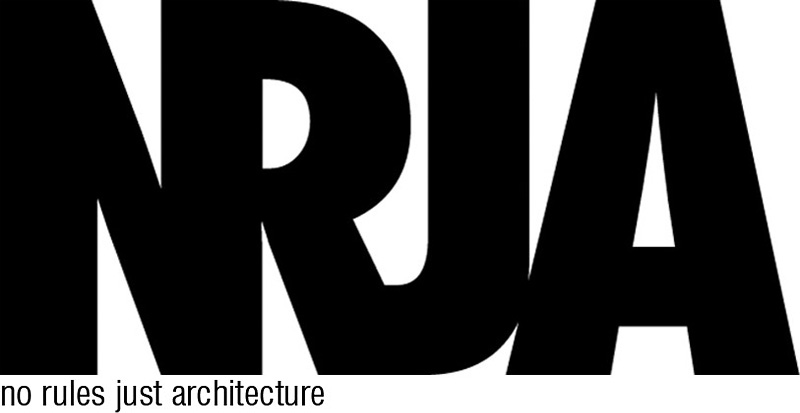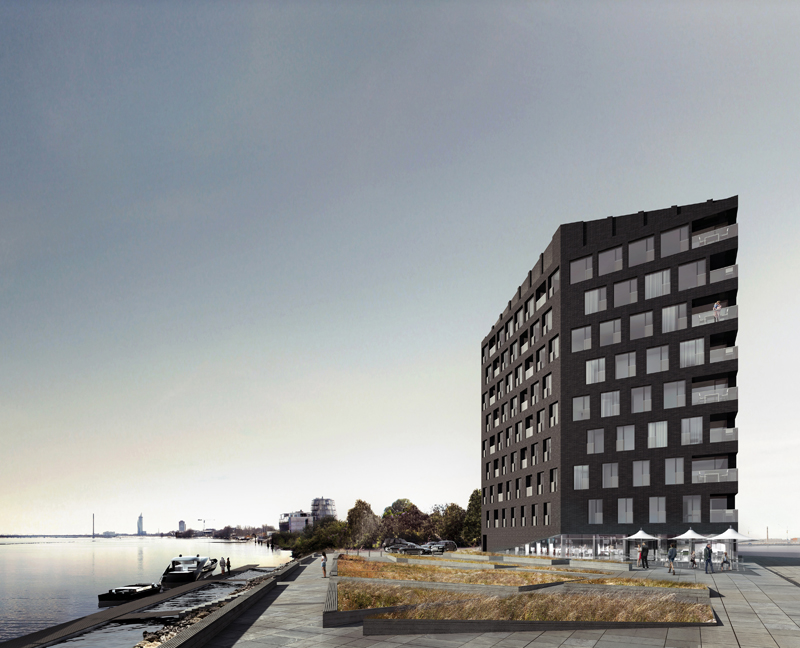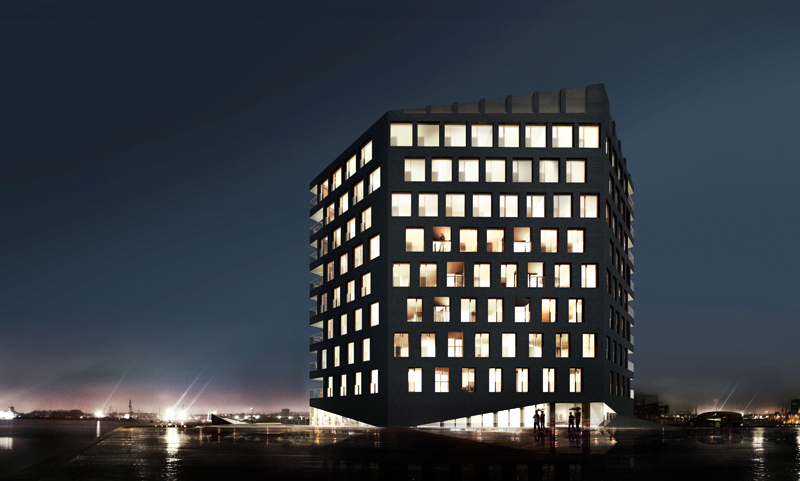 The apartment building "KEEP" serves as an important landmark on the northern part of Ķīpsala island due to its location, volume and image. Together with the RBSSKALS office building and the Gypsum Factory, "KEEP" marks the key points of future development of Ķīpsala.
The name of the apartment building is wordplay – "KEEP" stems from the name of the island Ķīpsala, meanwhile meaning fortress, stronghold or bastion in English.
The visual image – a location at the far end of the island with a view towards the sea and the sailors, a clean volume, black brick cladding, an angle facing the stream – draws associations with a breakwater or fortress guarding the gate of Riga, visible if approached from the north on the river Daugava.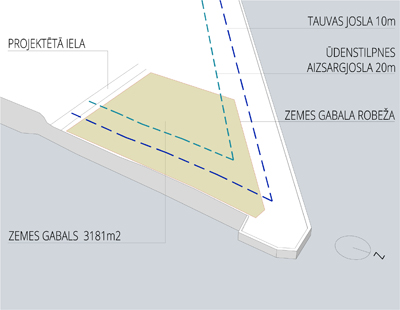 The form of the plan maximizes the brilliant panoramic views. The stunning views are also enhanced by the extensive glazing that increases with every floor and the loggias that give extra lighting and exterior space within the confines of an apartment, while still being protected from the wind. Outstanding views are achieved by the recessed loggias on the corners.
The underground parking with two-level automobile placement ensures the necessary amount of parking spaces (1.2 automobiles per flat).
The ground level parking lot ensures parking spaces for temporary guests and restaurant visitors.
The main access route, entry to the apartments and entry to the underground parking lot is planned from Matrožu street; entry to the restaurant – from the northern side.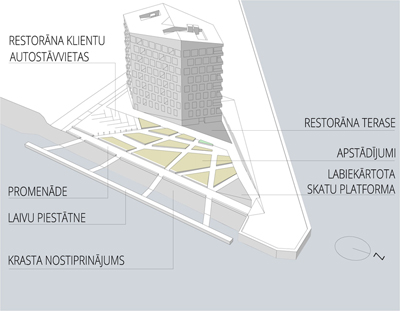 Territory
The planned project envisages a park with a system of roads and planted vegetation suited for waterfront territory. The park connects with the existing pier, the planned promenade, the fortified shore and the integrated marina. The northern end of the building lot is accentuated with a raised view platform with sitting stairs facing the south.
The project proposes a connection to the Riga's cycle network as well as 22 bicycle racks.
Stairs integrated into the fortification of the shore provide access to the water.
A children's playground is planned within the territory.
Functionality
The total height of the building is 9 floors. The ground floor is dedicated to public use – a fish restaurant with panoramic views of the river Daugava and terraces near the sea. The remaining floors are occupied by apartments. Total number of apartments is 42. The top floor apartments have terraces integrated into the roof construction as well as a possibility to install fireplaces.
The ground floor is appropriated for communal use – there are spaces for prams, bicycles, mailboxes. There are areas for security use and the person on duty..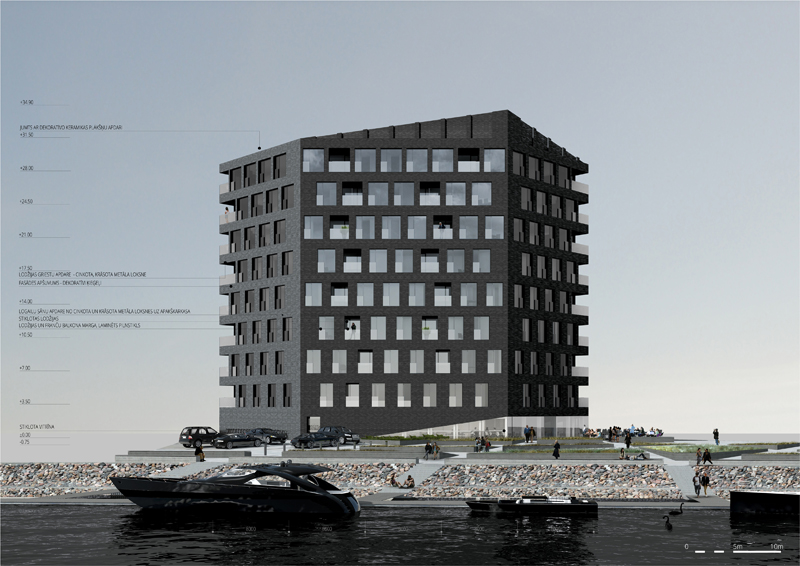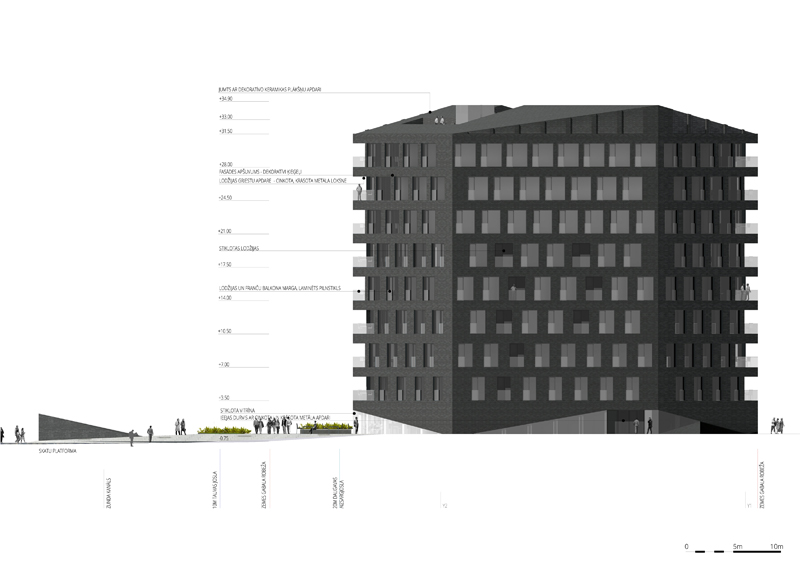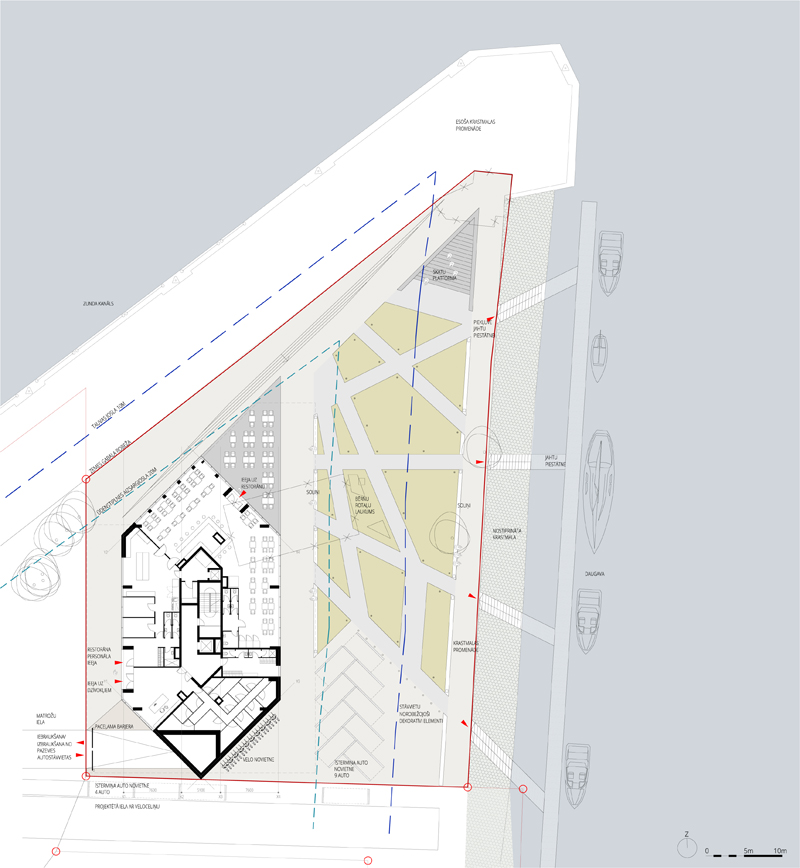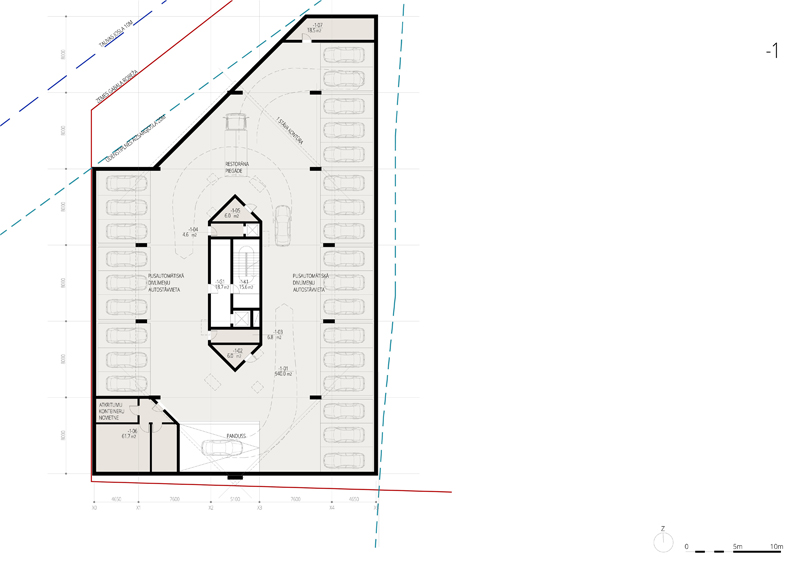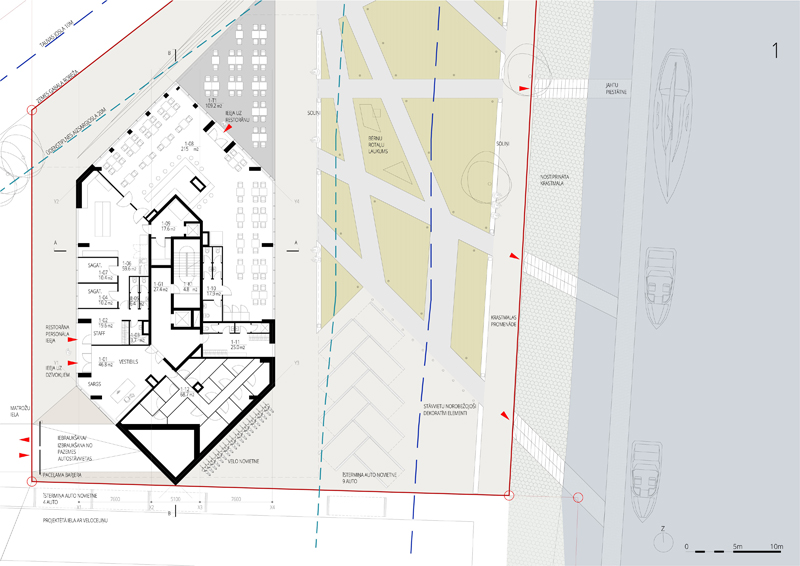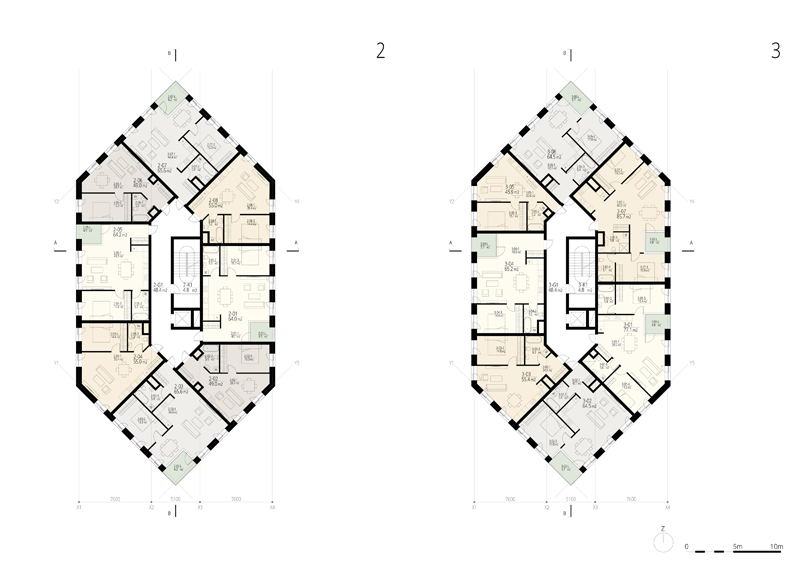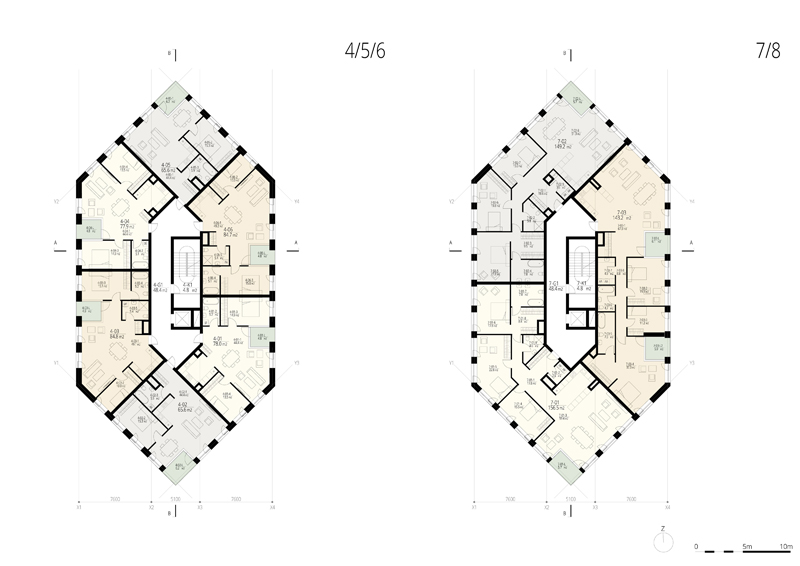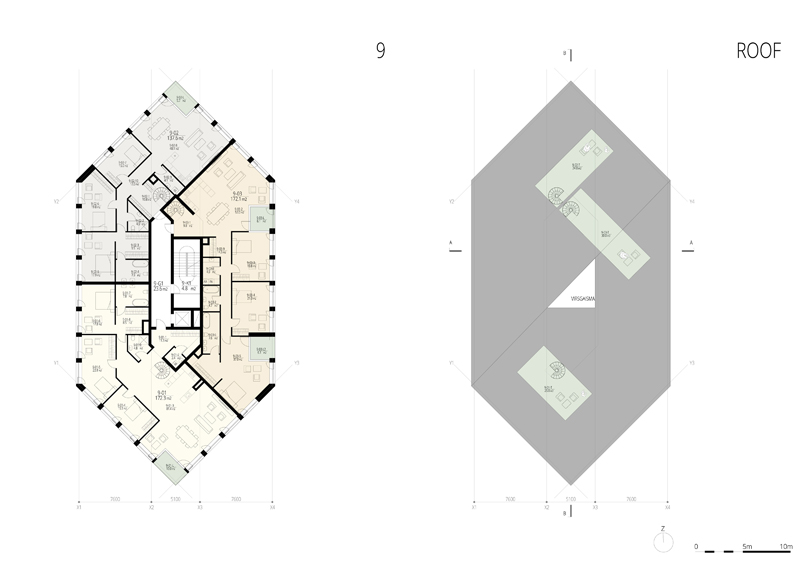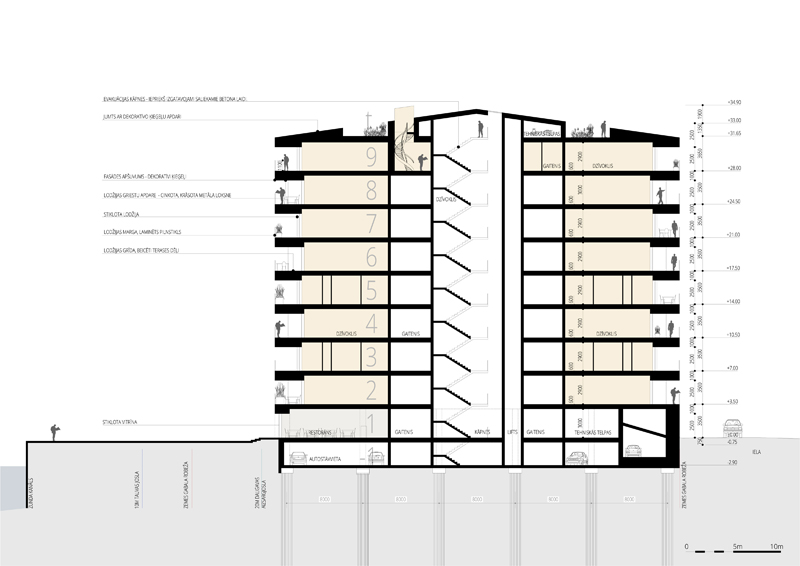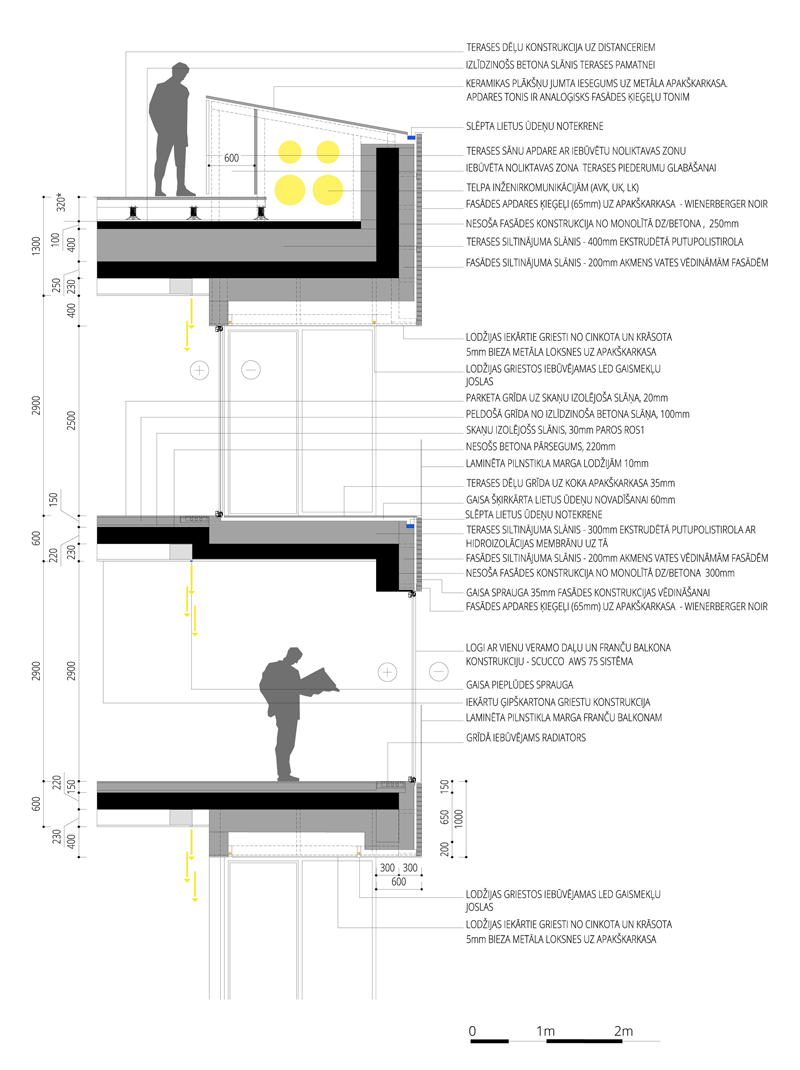 UN TAD VēL

2015-04-16 20:51:01

pēcsaspriegtā dzelzsbetona pārsegumi — nodrošina dzīvojamās telpas bez kolonām, rada iespēju pārsegt lielākus laidumus, nesabiezinot pārsegumu un nodrošinot izmaksas kontrolēta budžeta ietvaros