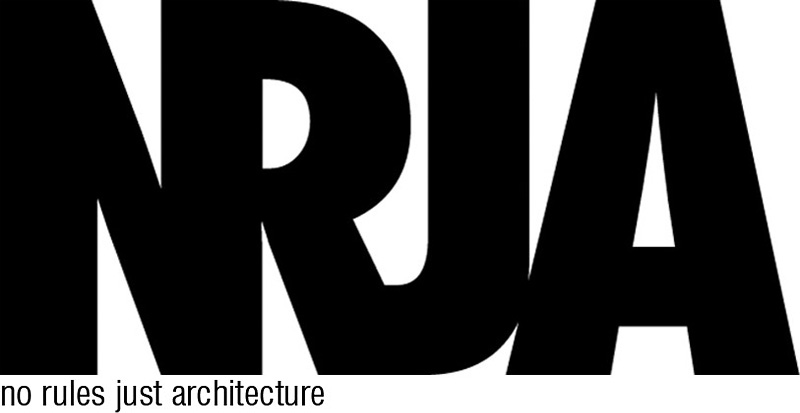 WINNING PROPOSAL - ART NOUVEAU MEETS GREEN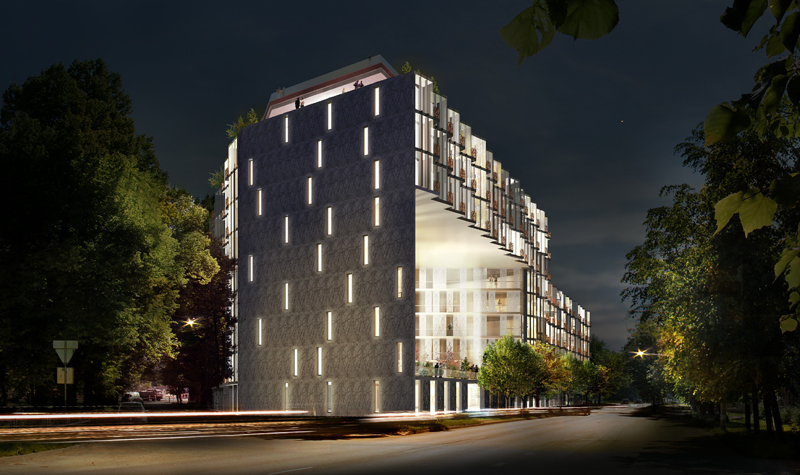 ART NOUVEAU MEETS GREEN / WITH ROOTS IN THE PAST AND VIEW INTO THE FUTURE - a modern building designed with a respect to historical buildings and principle of inheritance, open to daylight and sights, with a dynamic image and detail quality, "green" thinking and alternative energy use.
GROUND FLOOR PLAN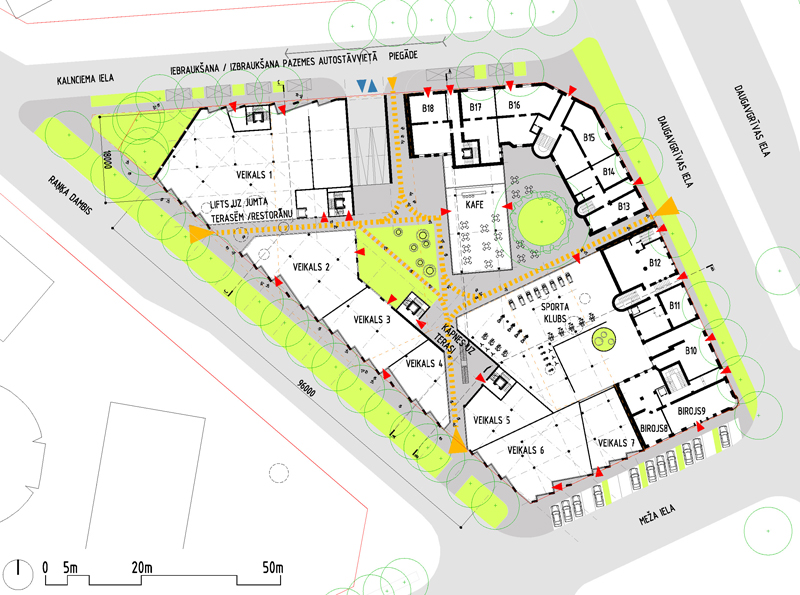 Commercial functions are located on the ground floor with access from the street level, apartments – in all other floors, underground car park in 2 levels (beneath the new building connecting the parking space to the historic buildings in the basement level), kindergarten is located in a safe area on the 2nd floor courtyard, stairwell and corridor area is up to 8.9% of the total area.
Passage through the ground floor level provides convenient access to the courtyard cafe, kindergarten, sports club and other infrastructure objects.
TYPICAL FLOOR PLAN (2-6)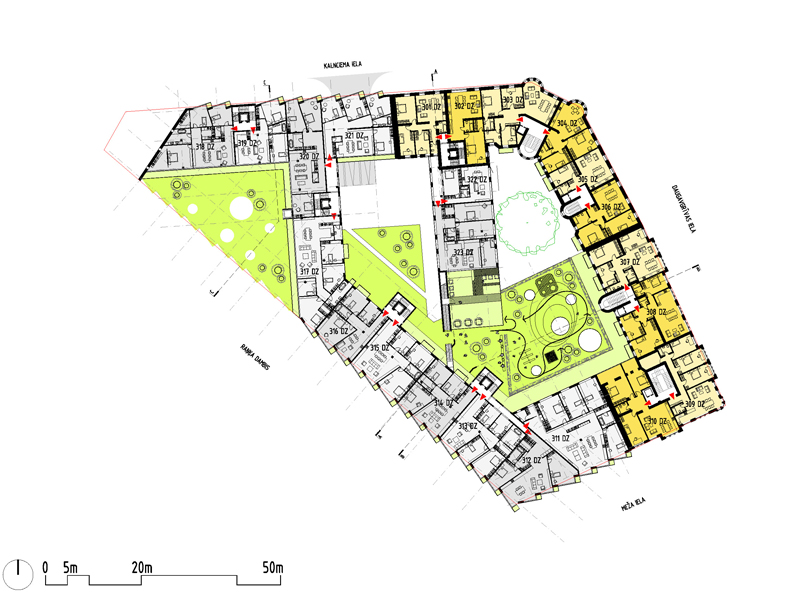 ROOF PLAN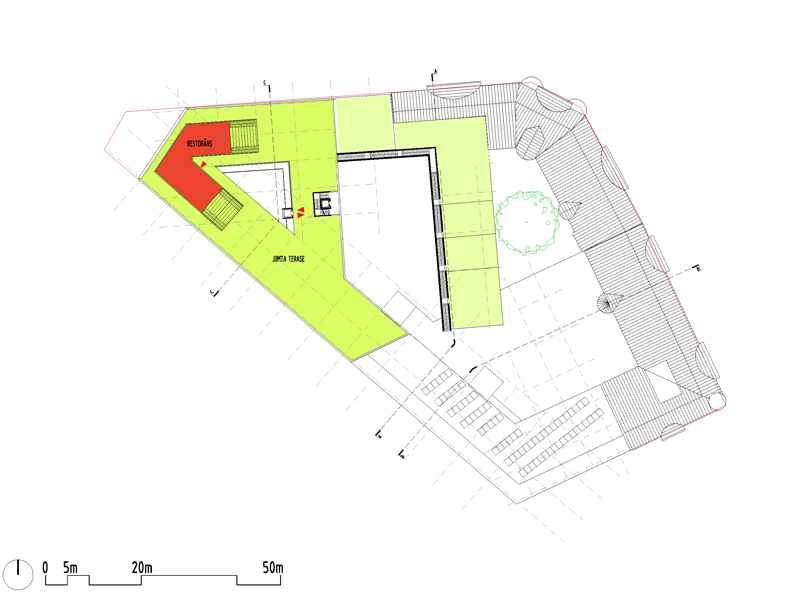 UNDERGROUND CAR PARK - TOTAL 229 CARS IN 2 LEVELS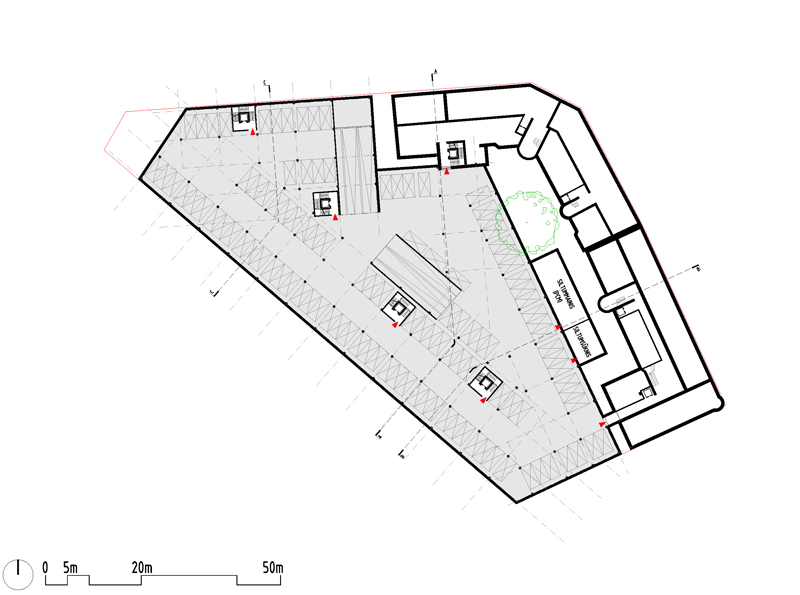 Historical building division principles are respected and implemented, visual expression inherited - Art Nouveau ornament is used in panels, balcony railings and sliding glass panels.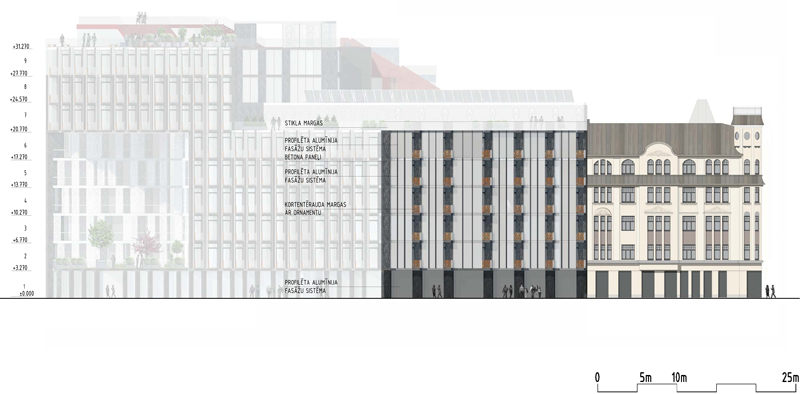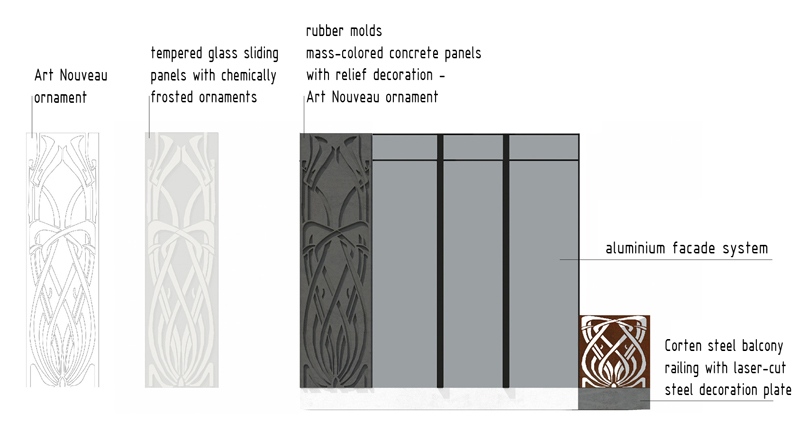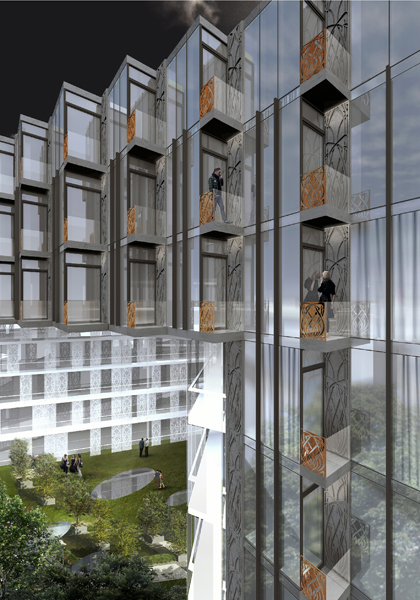 Building facades are opened to the South side with views to the river and parks.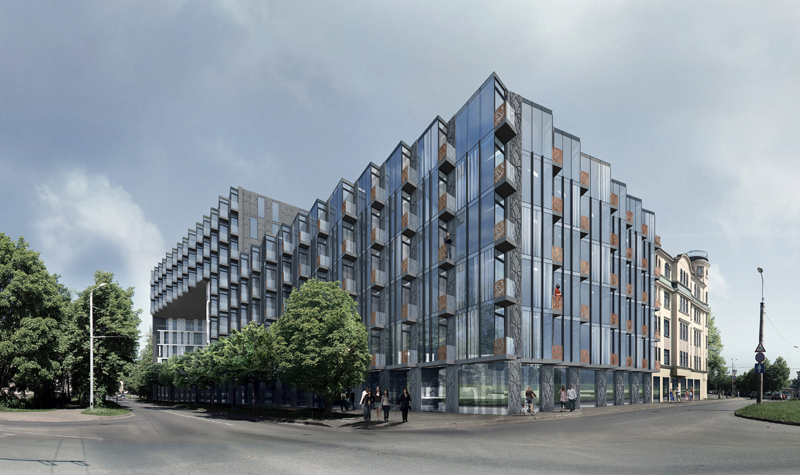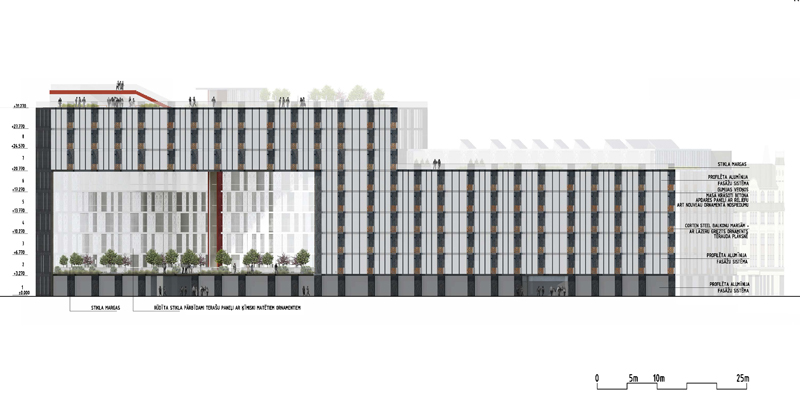 The proposal respects perimeter block principles, improving daylight qualities of individual building parts creating disposition in several floors while other floors are continuing the perimeter.
The block building starts with historical 6-storey buildings and ends with 9-storey as a logic introduction to a cluster of blocks which will end at its highest point with 30-storey Z-Towers high-rise.
Facade "serration" on one hand continues the historical facade division principle, on the other relates to Z-Towers facade.
The planned functions do not overlap and complement with the Z-Towers complex hotel, offices, casinos, multifunctional hall, a spa.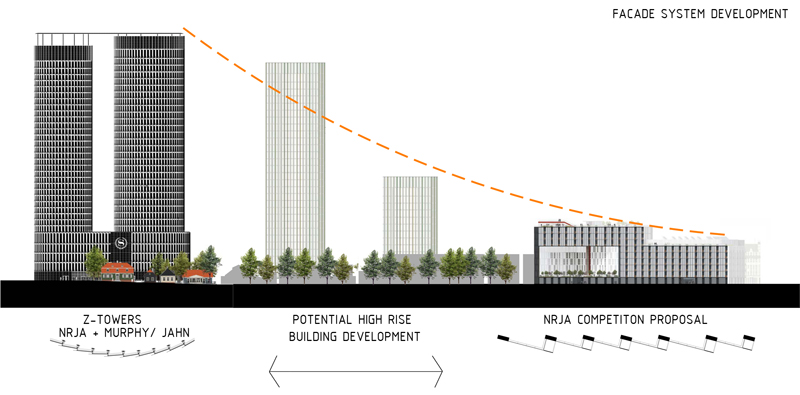 Existing shaded courtyard building is planned to be reconstructed and will obtain large amount of glazing and exclusive South terraces.
The nearby park is continued into the courtyard and up to the green terraces and landscaped green roof.
Historical buildings are reconstructed and attic extended towards the courtyard.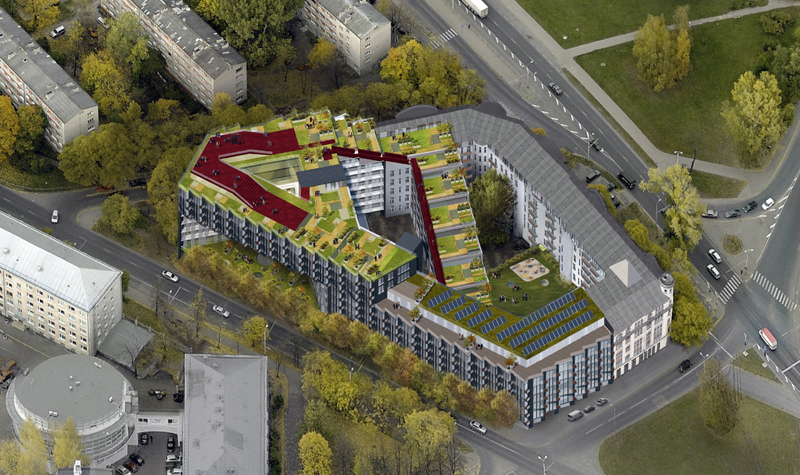 The nearby park is continued into the courtyard and up to the green terraces and landscaped green roof.

Rooftop restaurant on top of the 9-storey building becomes a landmark and getting to it turns into a process and event. One can reach by atrium panoramic elevator, or by breaking 207 steps.
Stairs are leading along the terraces planted with greenery up to landscaped roof terrace, where the restaurant volume is extended as open-air terrace overlooking Riga.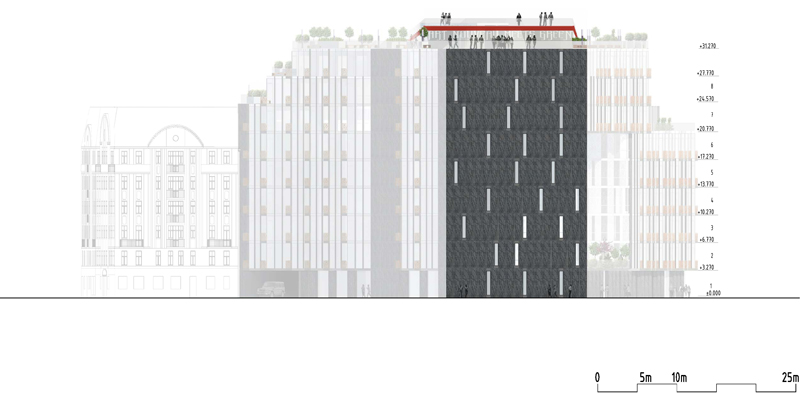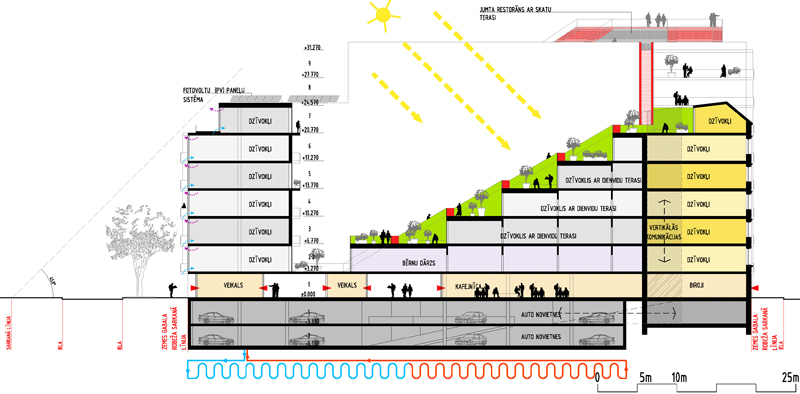 To improve buildings technical quality and energy efficiency several alternative energy applications are used.
Photowolt panel system on the roof of the building.
Groundwater heat collector beneath the underground parking structure floor.
Air recovery equipment (fresh air intake through the underground system, where the fresh air is either naturally heated or cooled).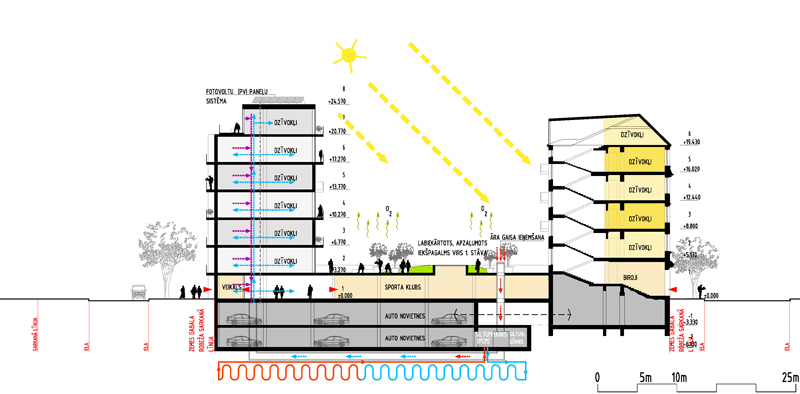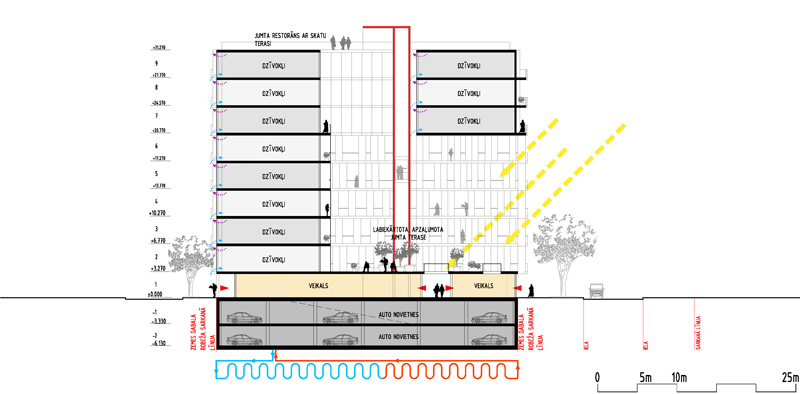 The new building is planned as a concrete frame structure with partially-bearing walls, aluminum facade systems, combined with rubber molds mass-colored concrete panels with relief decoration - Art Nouveau ornaments, corten-steel balcony railing with laser-cut plate, tempered glass sliding panels with chemically frosted ornaments.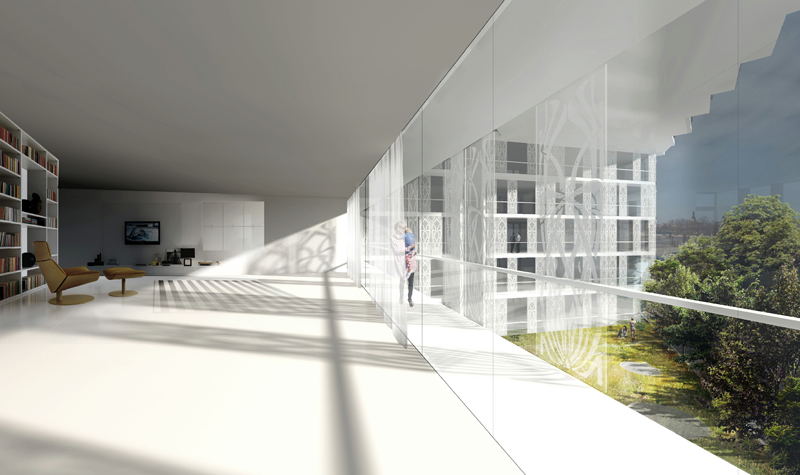 Plot area 6528 sqm
Reconstructed building (6-storey) 8115.9 sqm
Planned building (6-9-storey) 16470.1 sqm
Total area of overground + underground floors 32,582 sqm
Commercial area 3592.5 sqm
Kindergarten area ​​ 391.3 sqm
Cafe / restaurant ​​ 519.7 sqm
Number of apartments 132
Total area of ​​apartments 20082.5 sqm
Parking spaces 252
Balconies (322) total area 813.15 sqm
Terraces area 3236.7 sqm