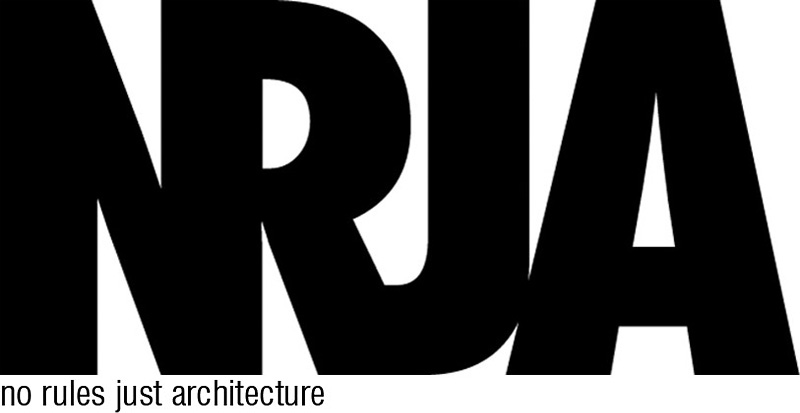 8 BLACKS
Initially planned as a holiday house, at the end of the design process - socially active family's living house complex at the River Venta near Kuldiga. The place drags in to live there.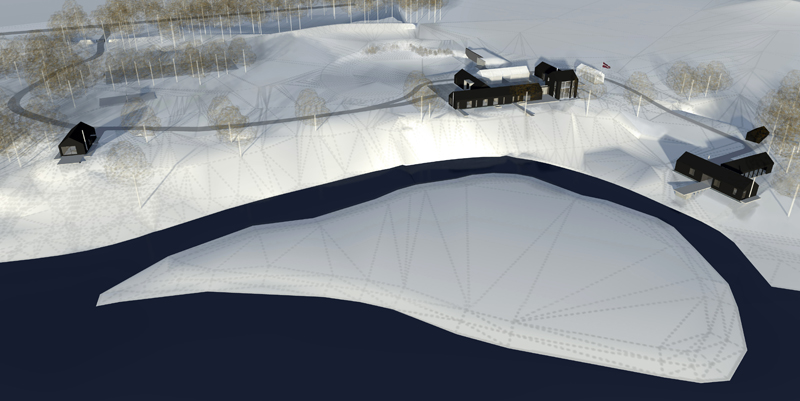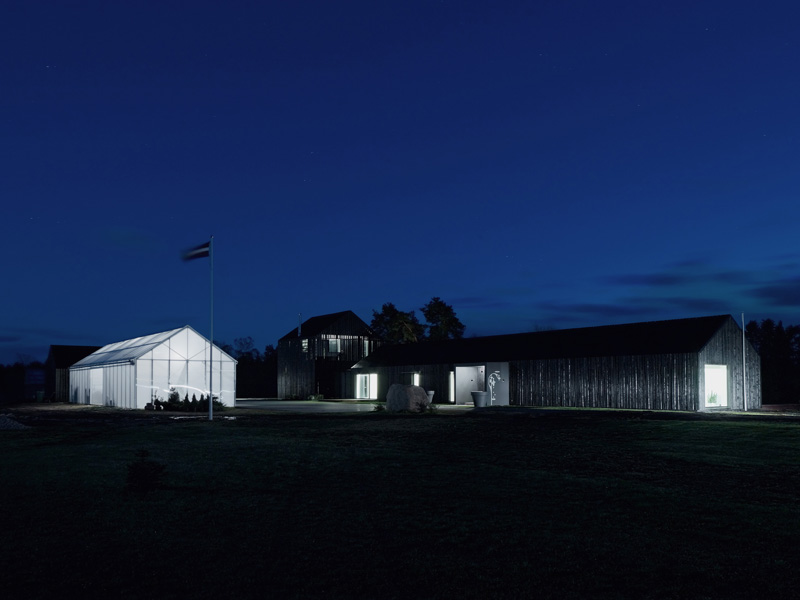 8 BLACKS consists of:
1. A group of buildings for daily living, located around the paved courtyard and creating center of gravity for the complex,
2. Guest house and Sauna house located at a distance,
3. Cellar sat within relief and ancillary buildings.
4. Football and Volleyball field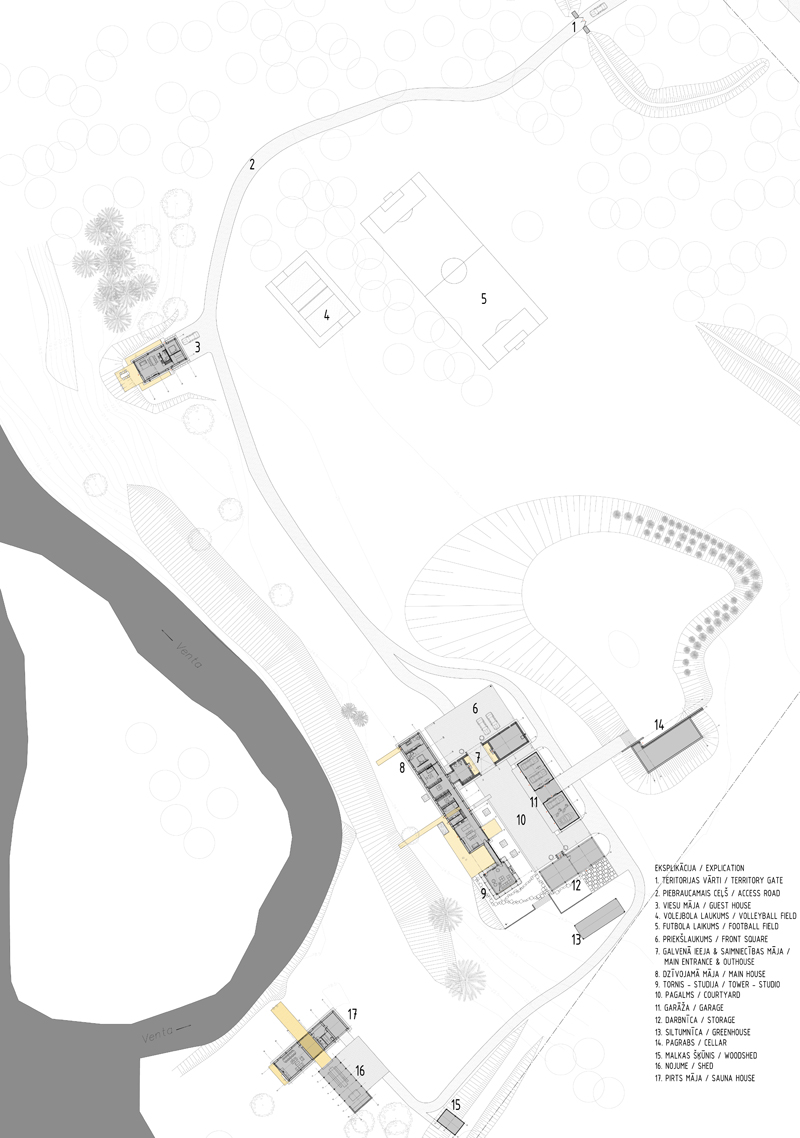 Placed within the existing relief the cellar volume is ending up the planed garden with a solid rock wall. More over the garden within the gully will be protected from prevailing winds. The cellar is located at a distance from living complex, while the visual link is provided through an opening in the garage building.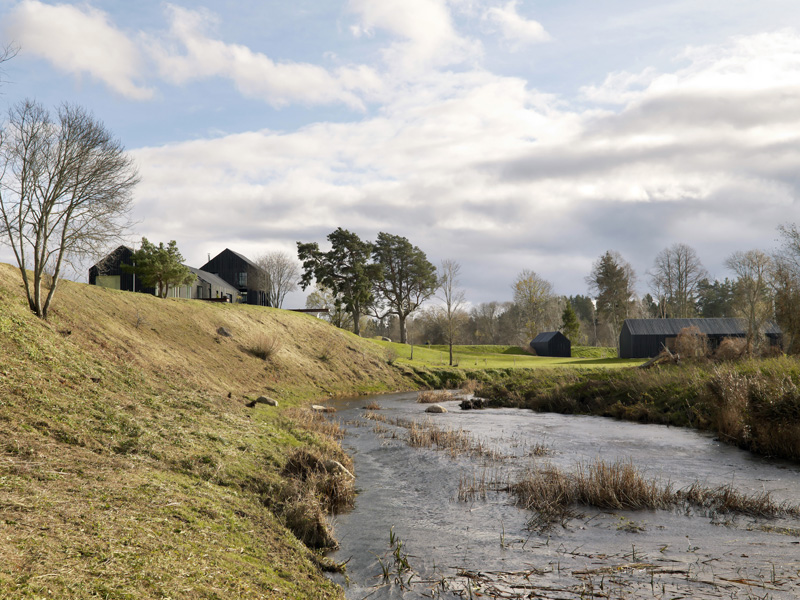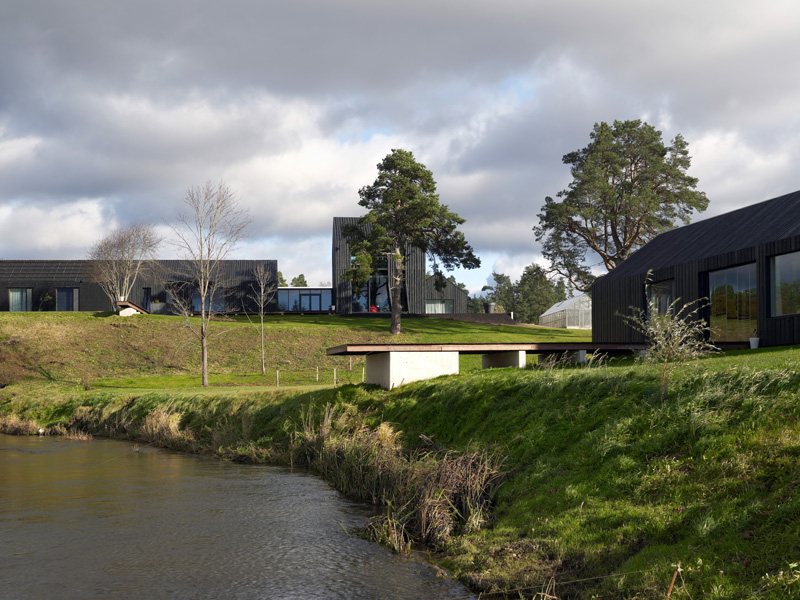 8 BLACKS is a modern approach for traditional living complex in Kurzeme adopting the archetypal cross-section as a common element for all buildings. Union of traditional and modern in the image of the house entail sense of inheritance and belonging at the same time providing the necessary comfort for active living.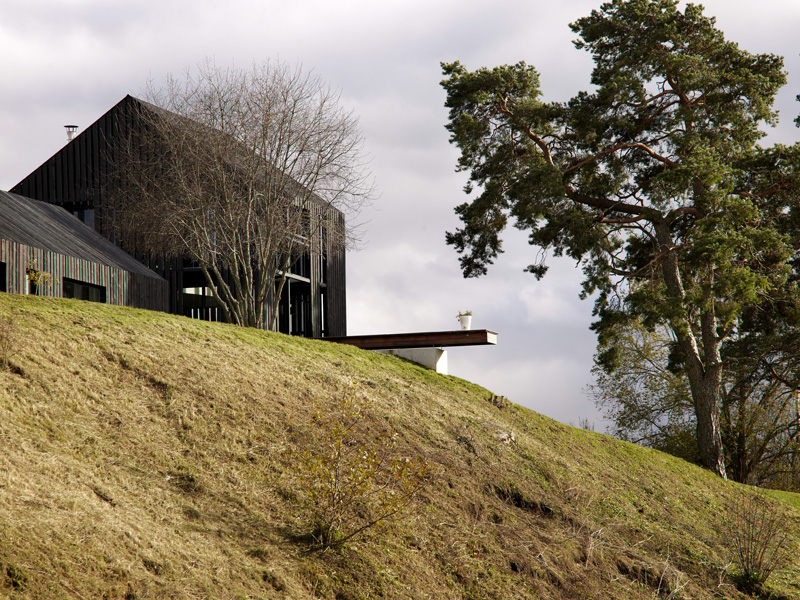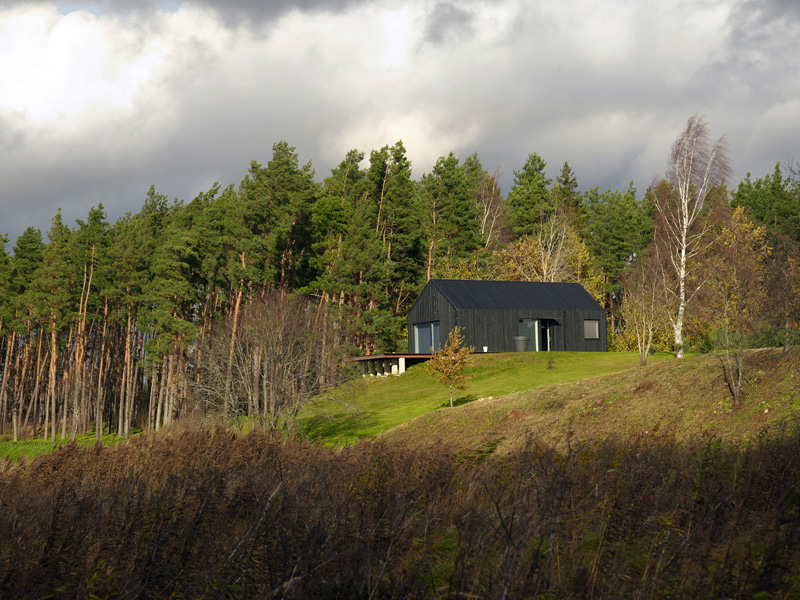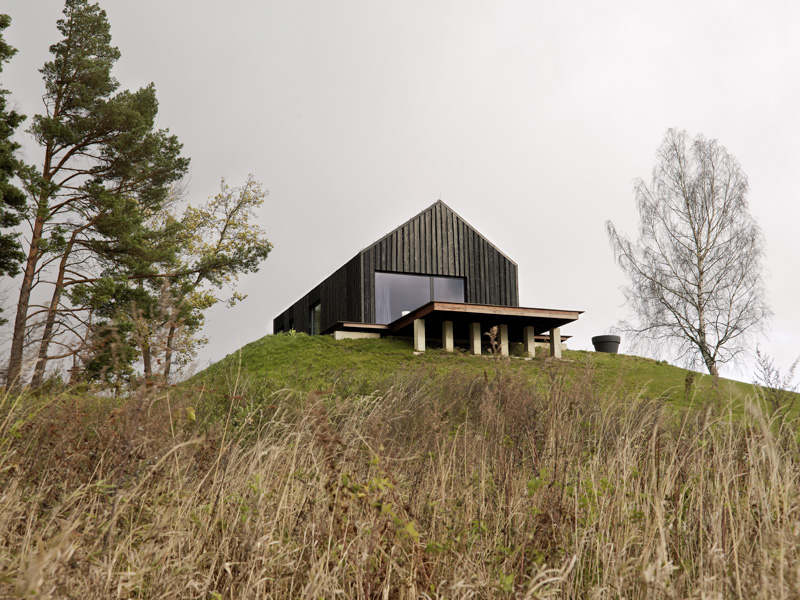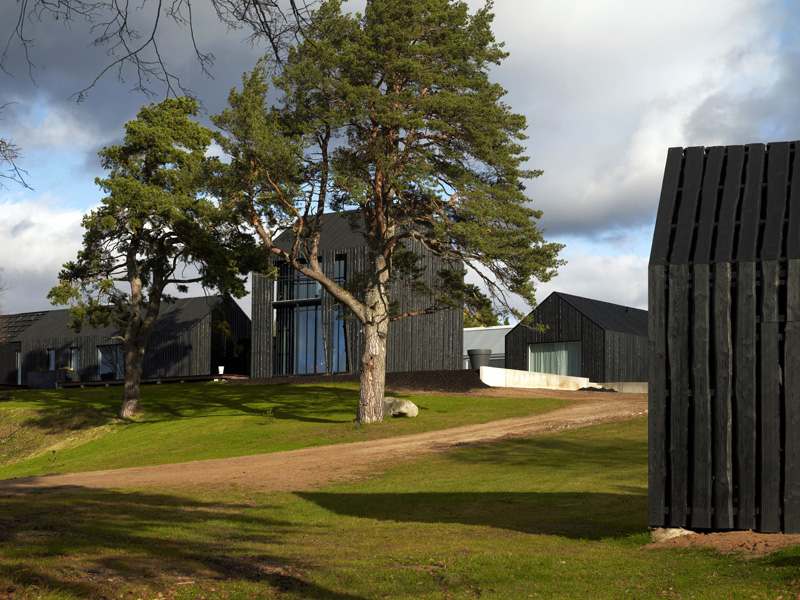 Expressive nature of the terrain - a swift river, remarkable relief, wind - defined the minimalist form of buildings; they do not compete with nature.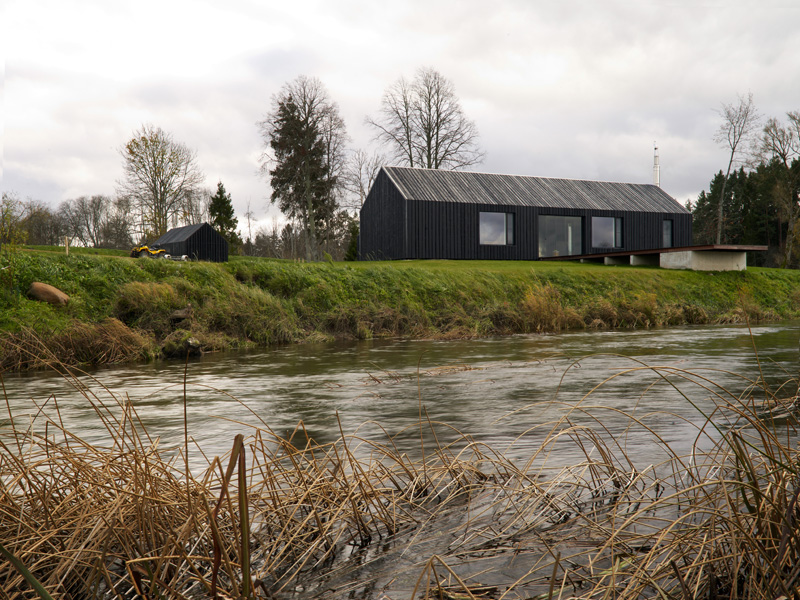 Indoor space is formed following a principle of - box in a box - free-standing room blocks with built-in furniture walls. The space above the ceilings is used as extra sleeping area.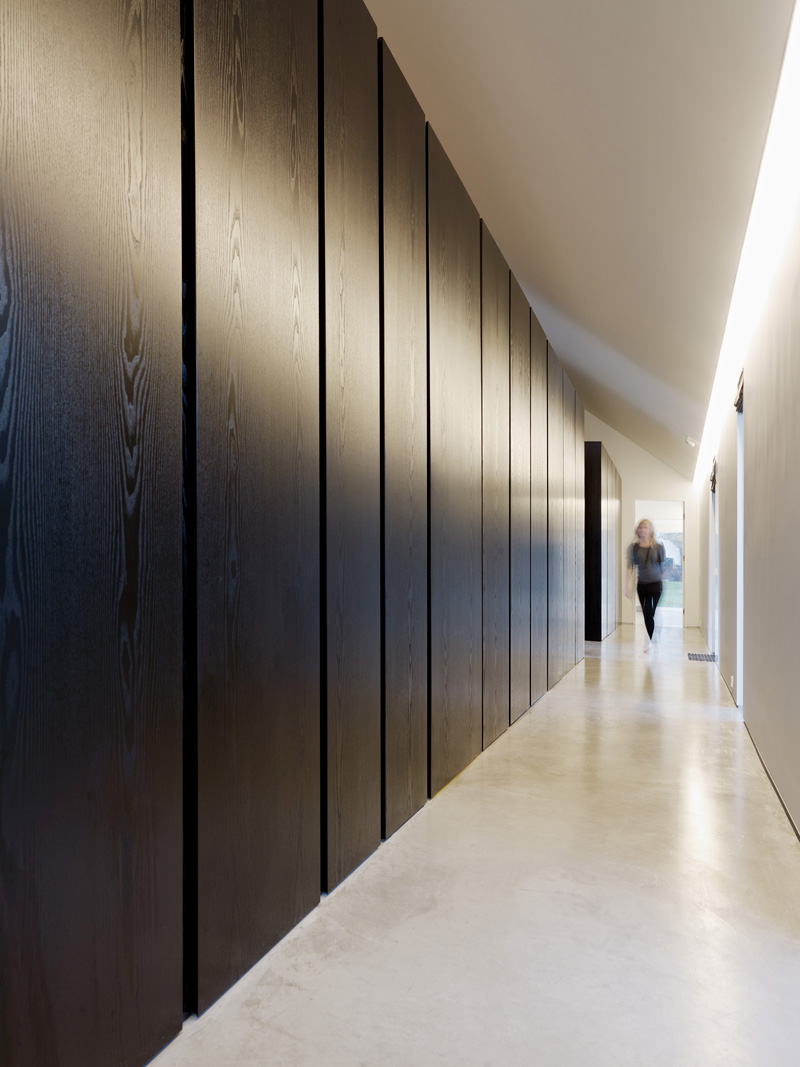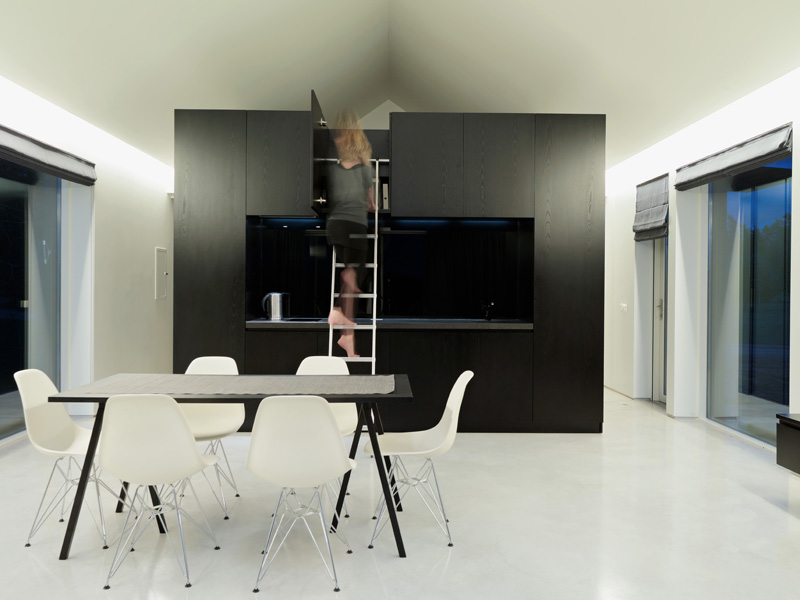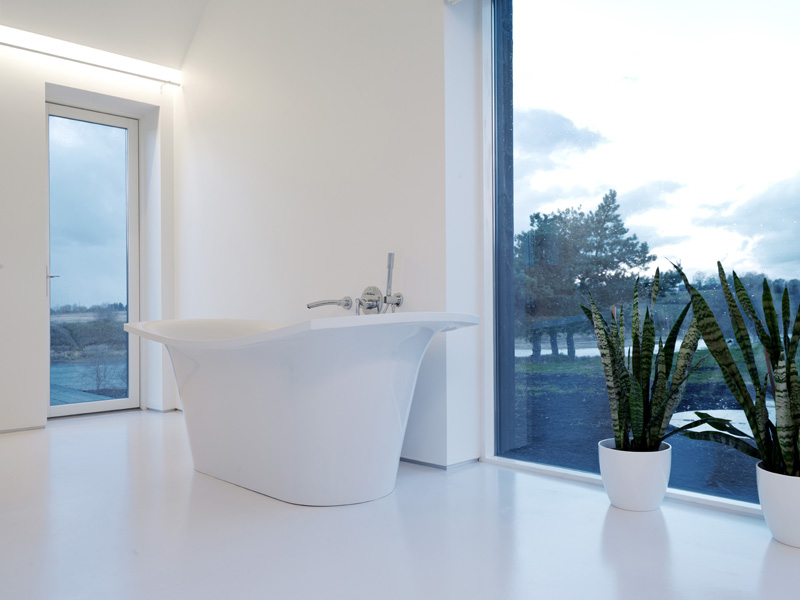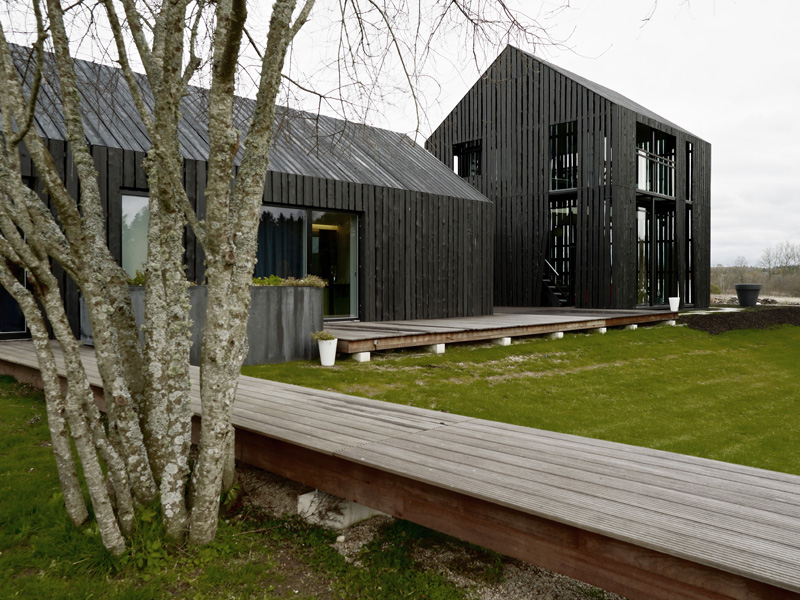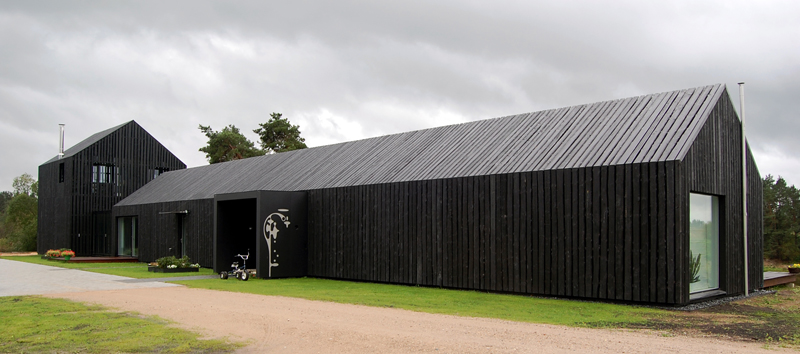 Using one material for both - walls and roofs – homogenous look of the building is achieved; surface texture and details are reached by the finish of raw wood planking.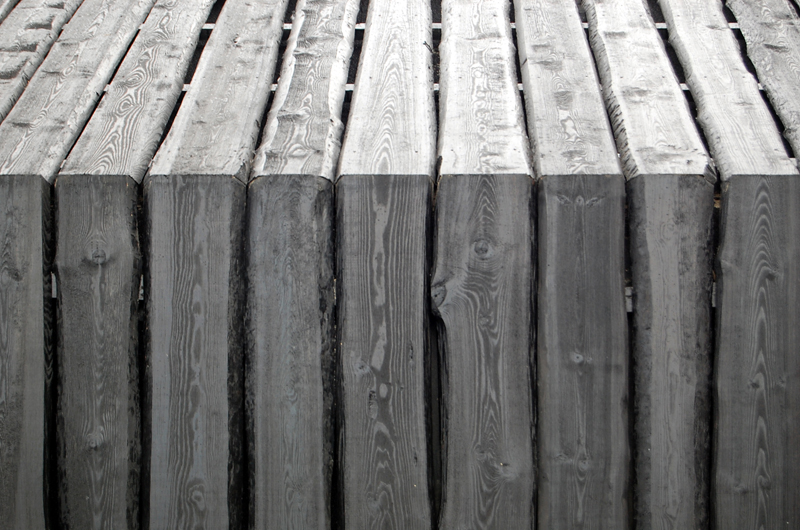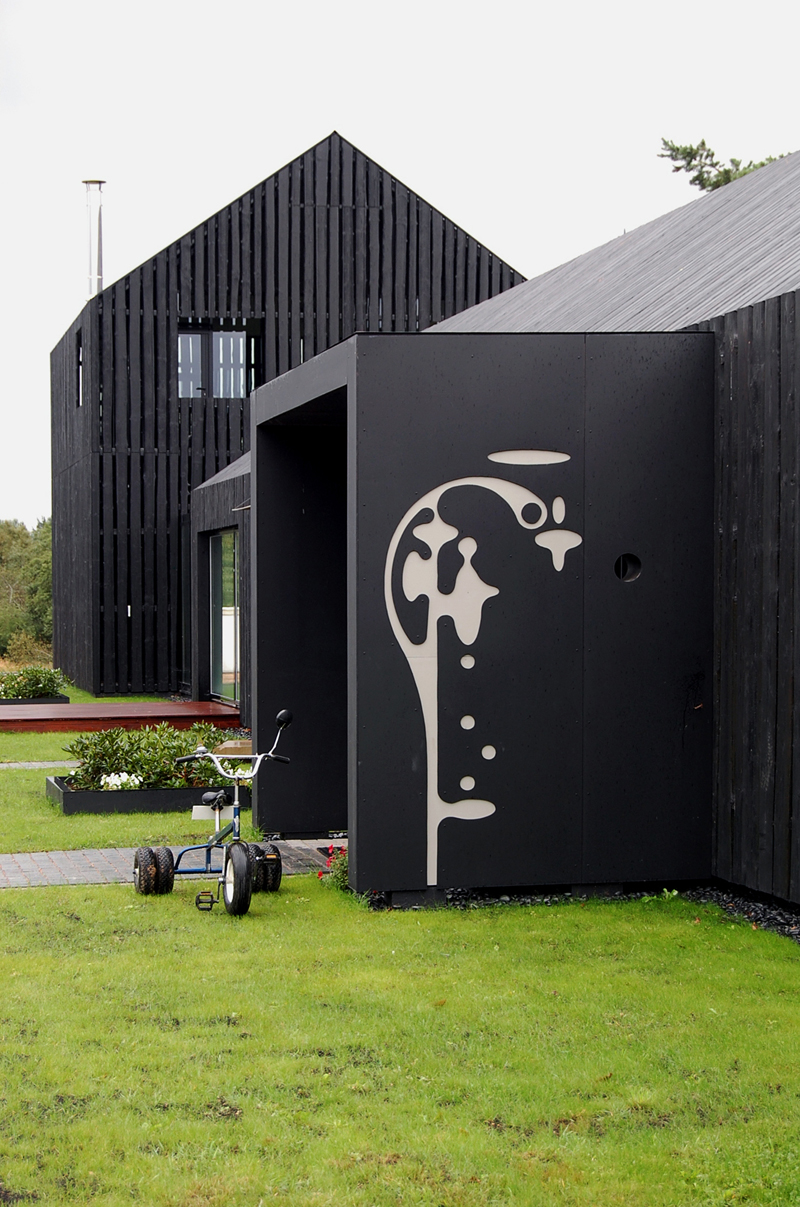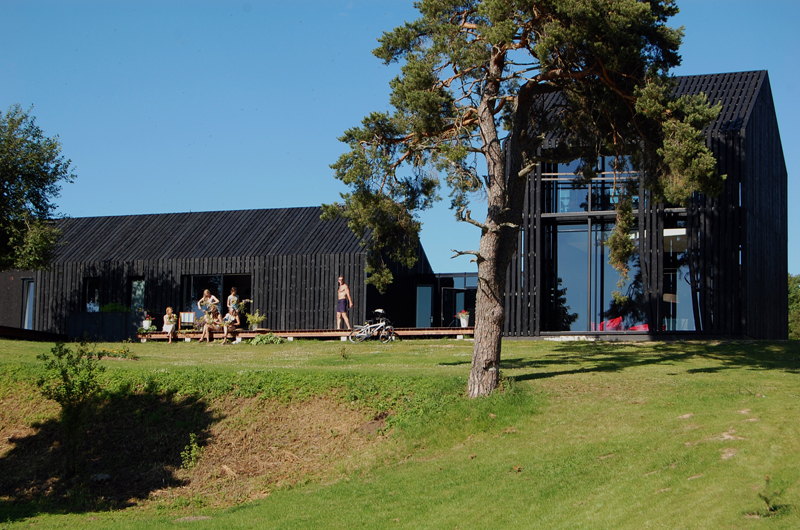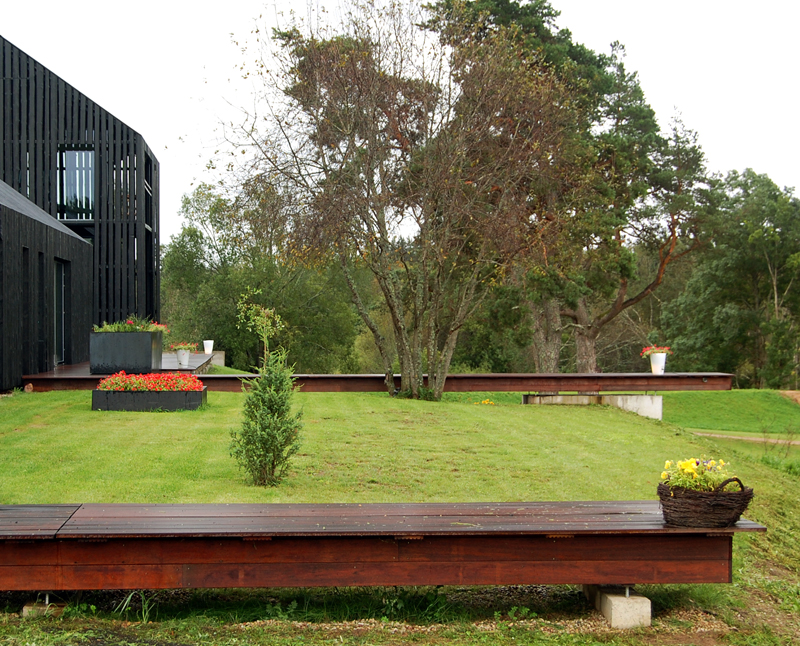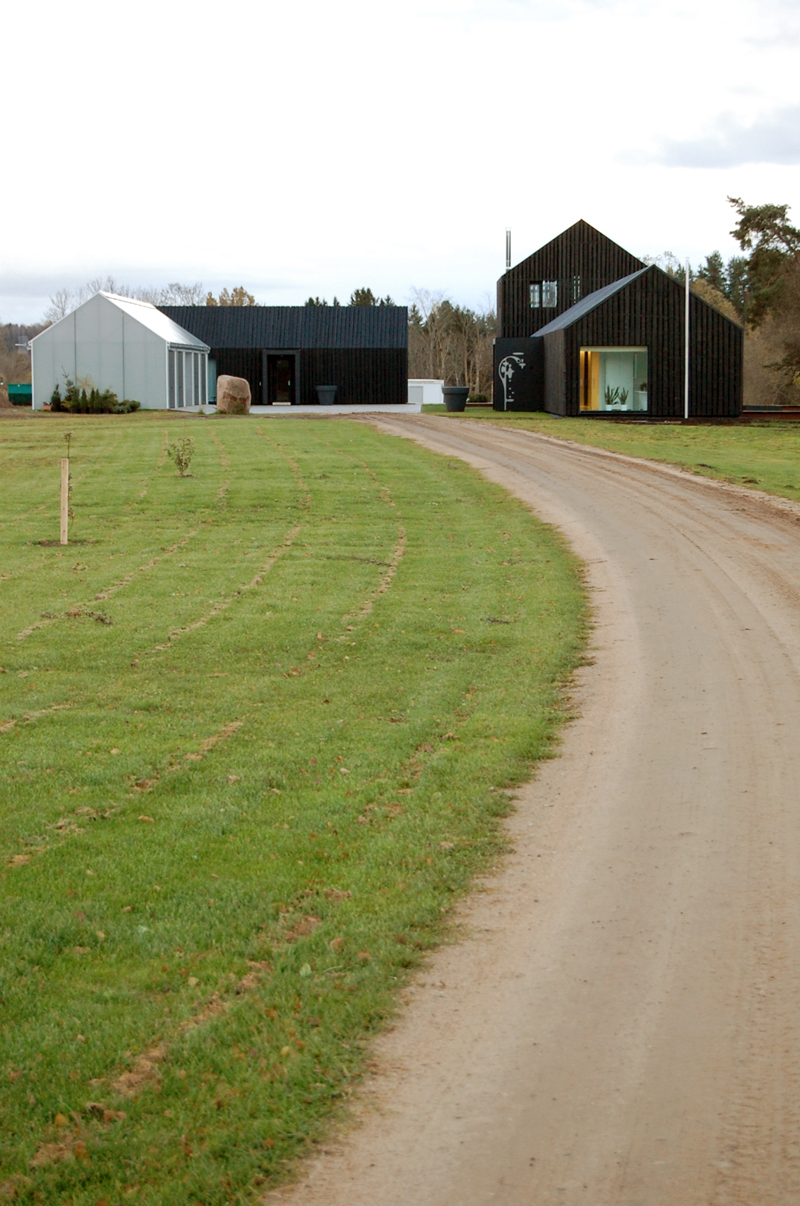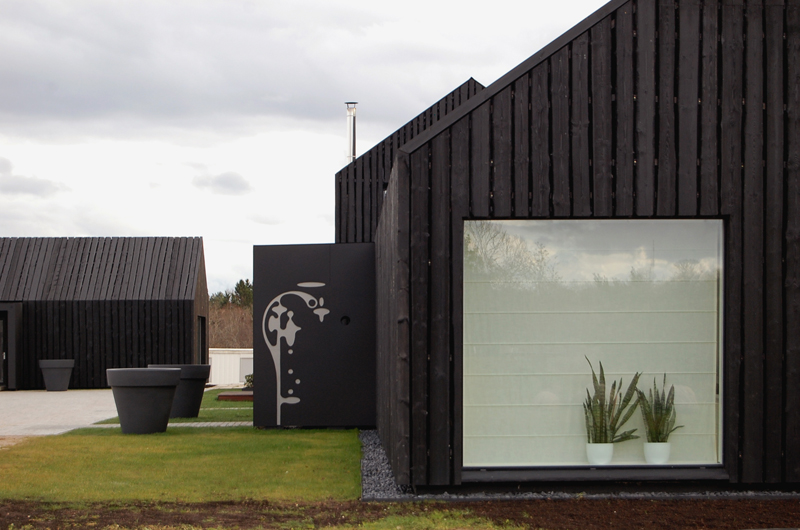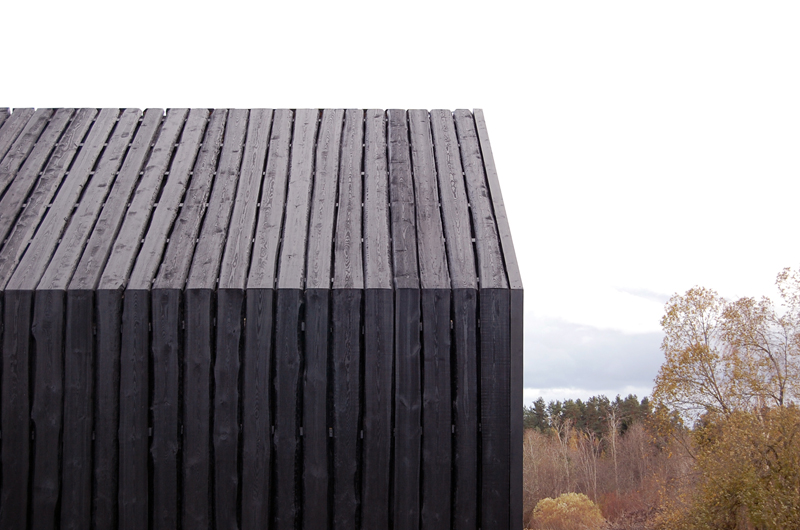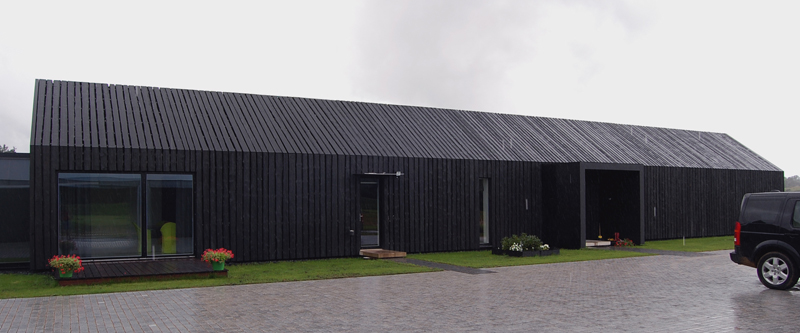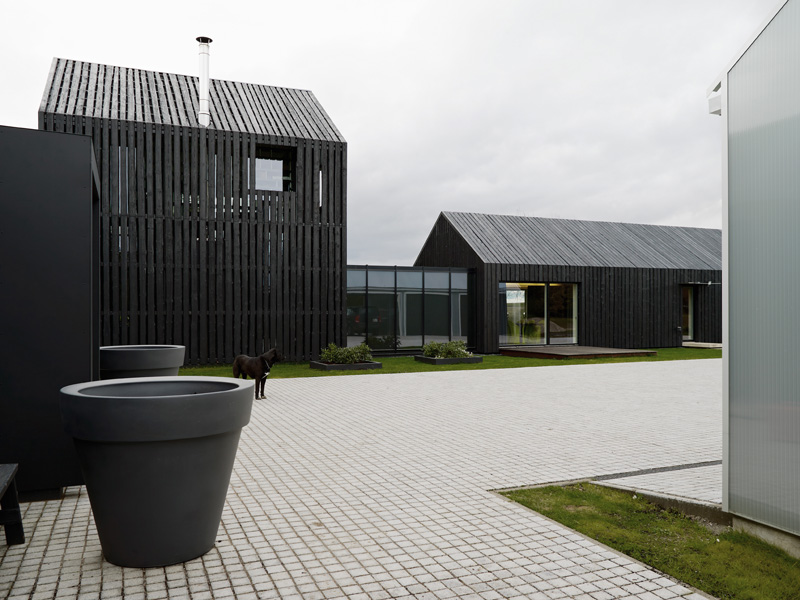 Two-storey volume separated by a gallery and a terrace from the rest of the residential building contains a fireplace room on the ground floor and owner's working room on the upper level. Construction of walls in this building is different from other volumes – metal frame construction with glass fill and rare wooden siding creates light games in the interior. Wooden boards, opened up towards the river, allow watching it.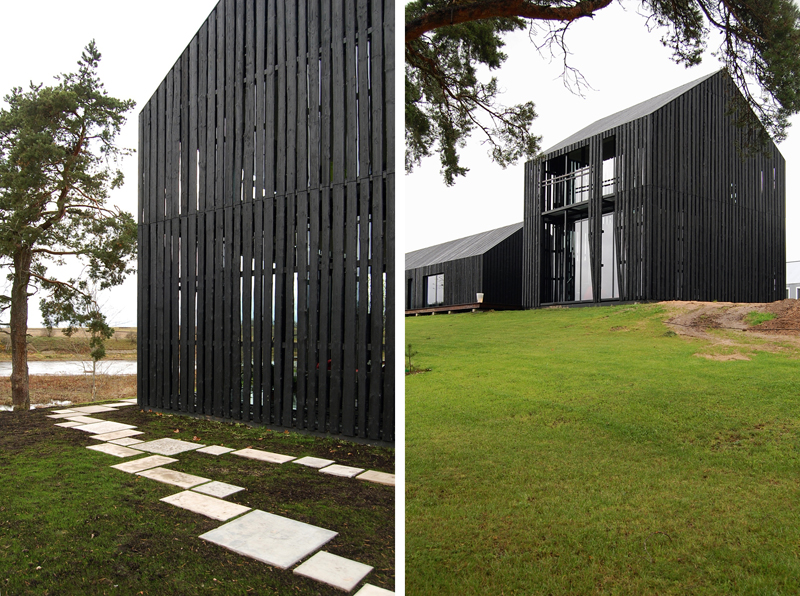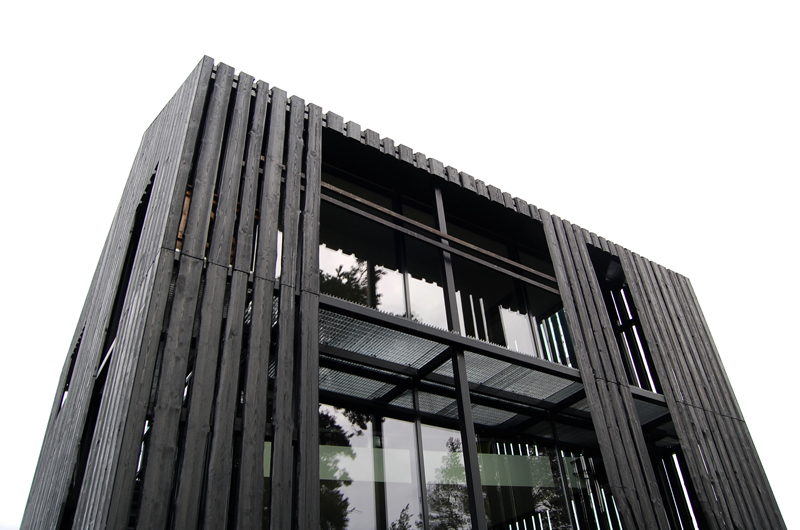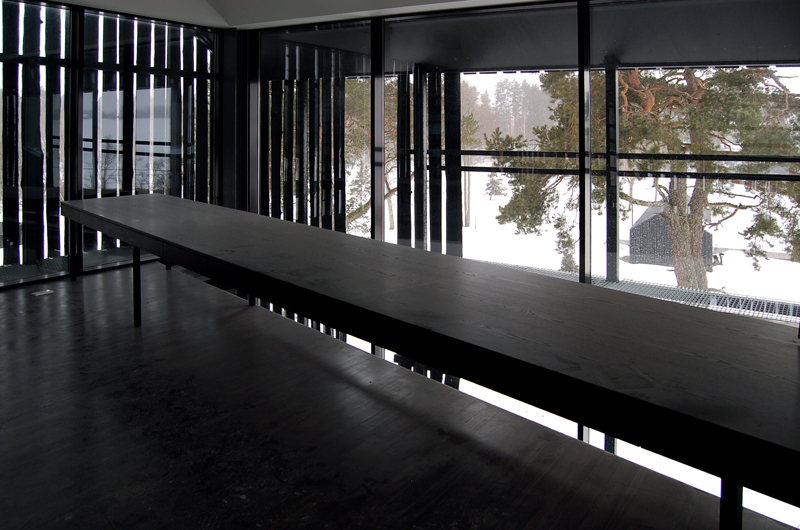 In contrast of 8 BLACKS the inner courtyard is connected to garage building, made of white polycarbonate and operating as a large lamp and illuminating the yard.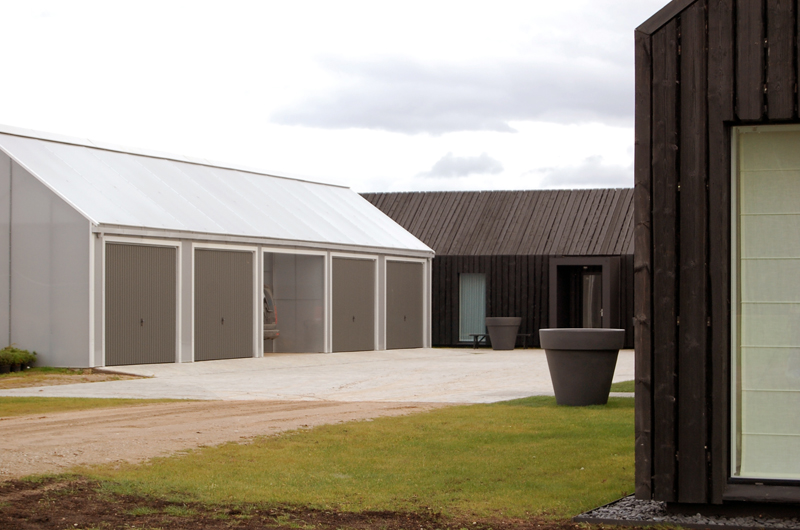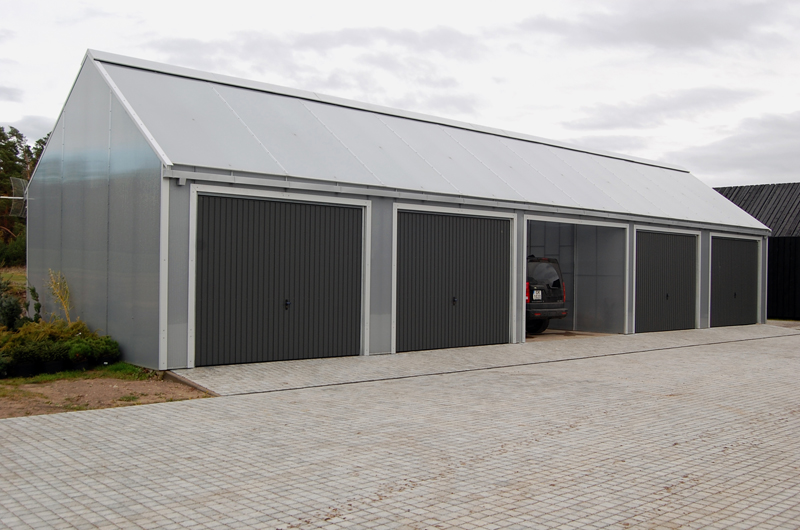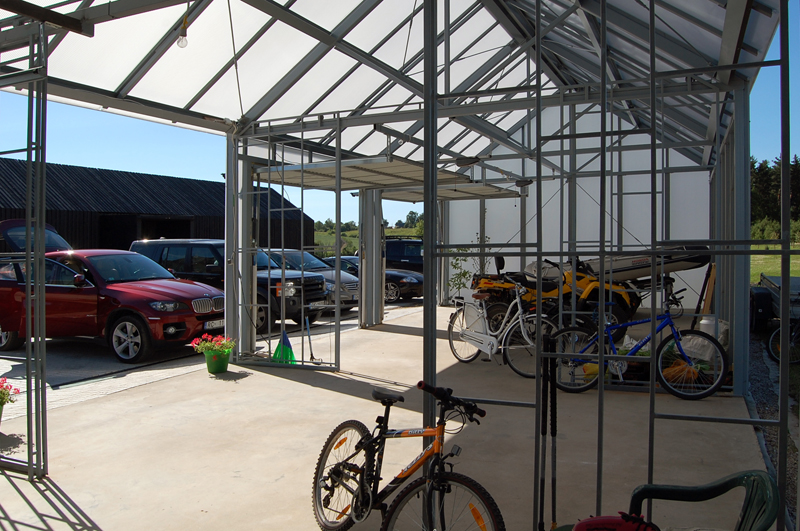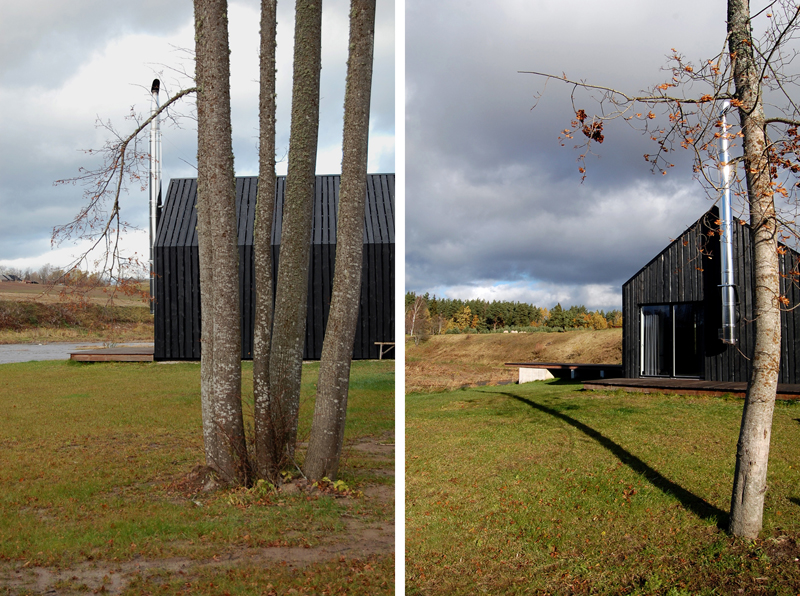 8 BLACKS - 8 black painted wood planking buildings forming a complex.Large windows of the buildings provide a visual link with the surroundings; the terraces of various sizes offer an opportunity to go out while being in the house.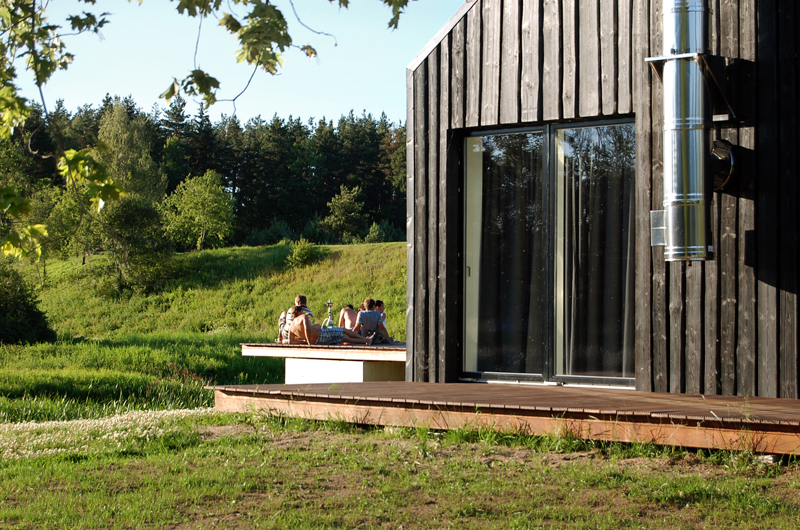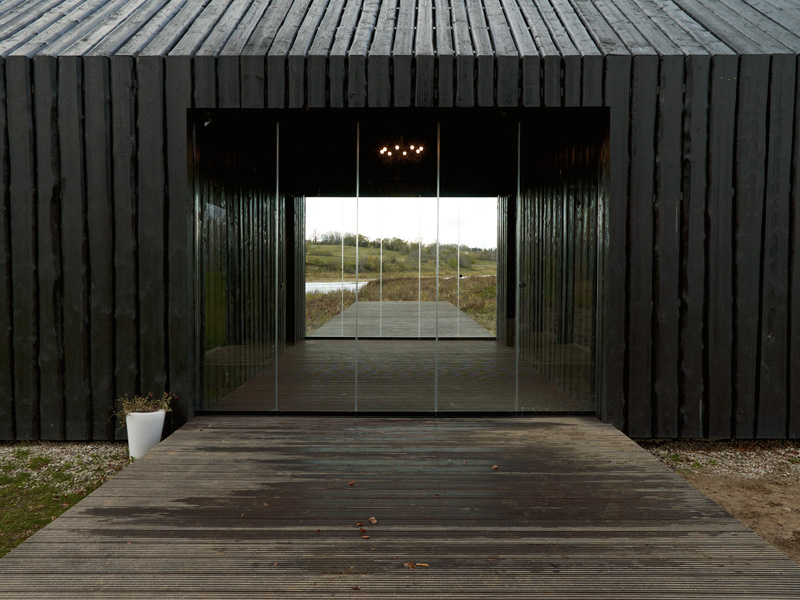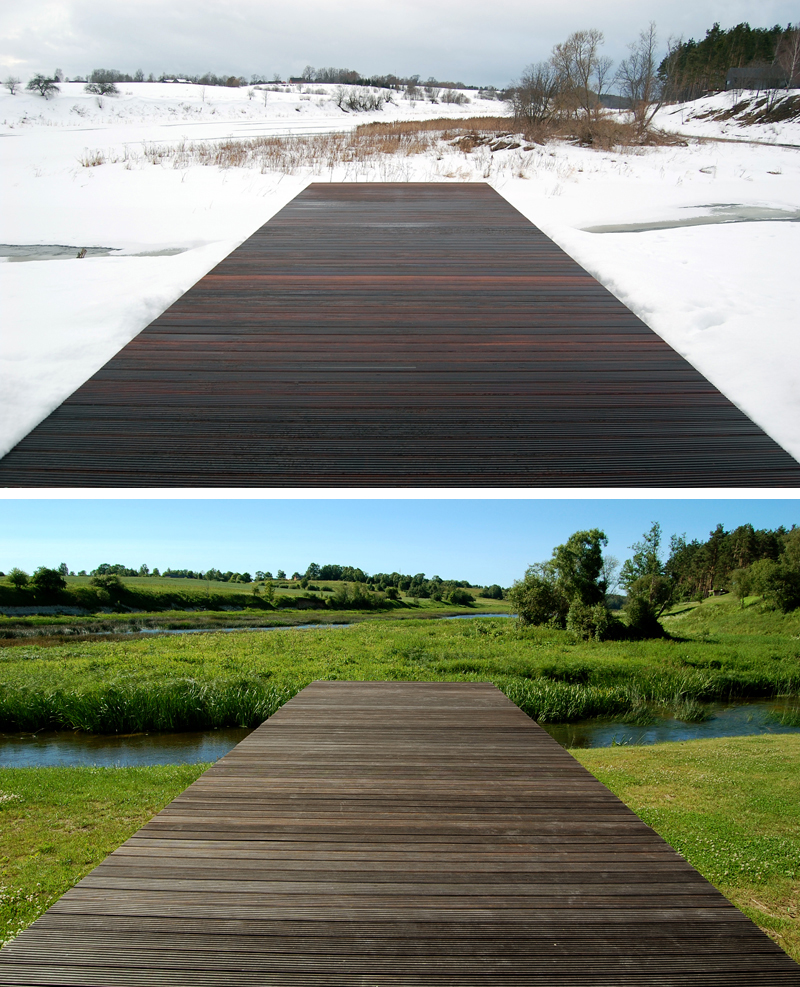 Main building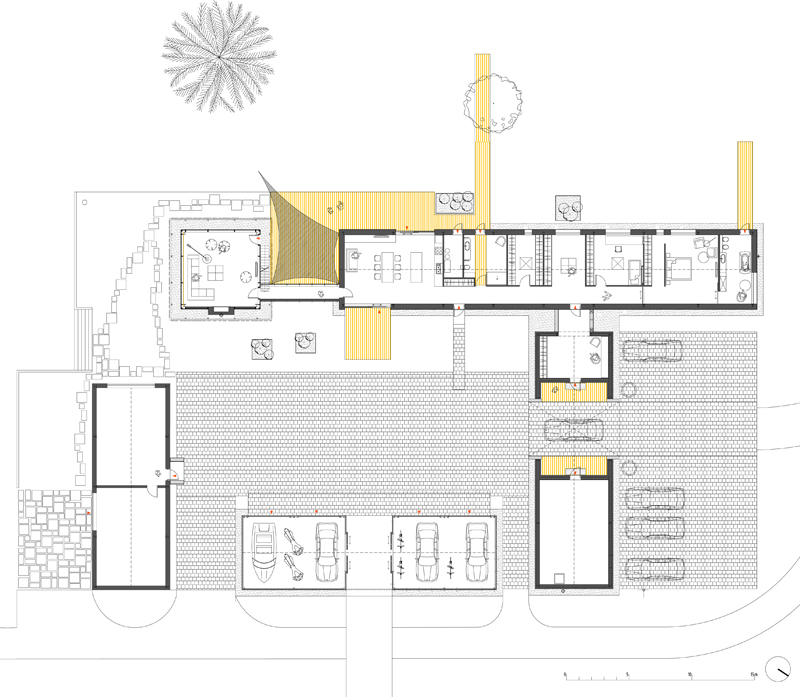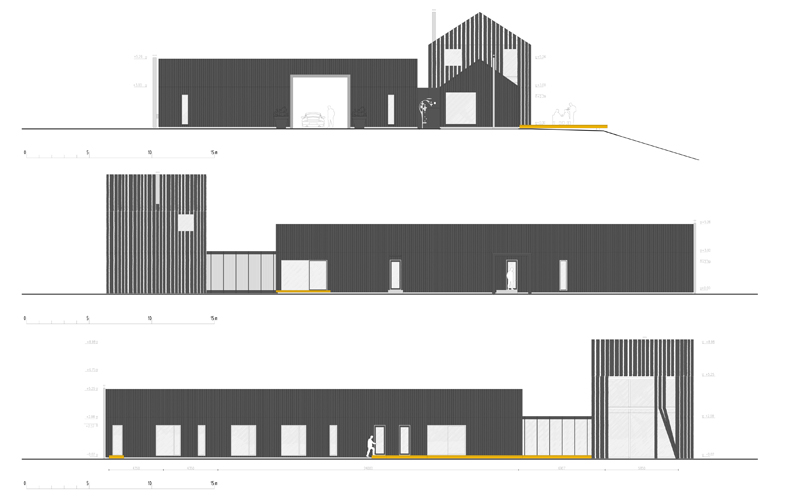 8 blacks main building development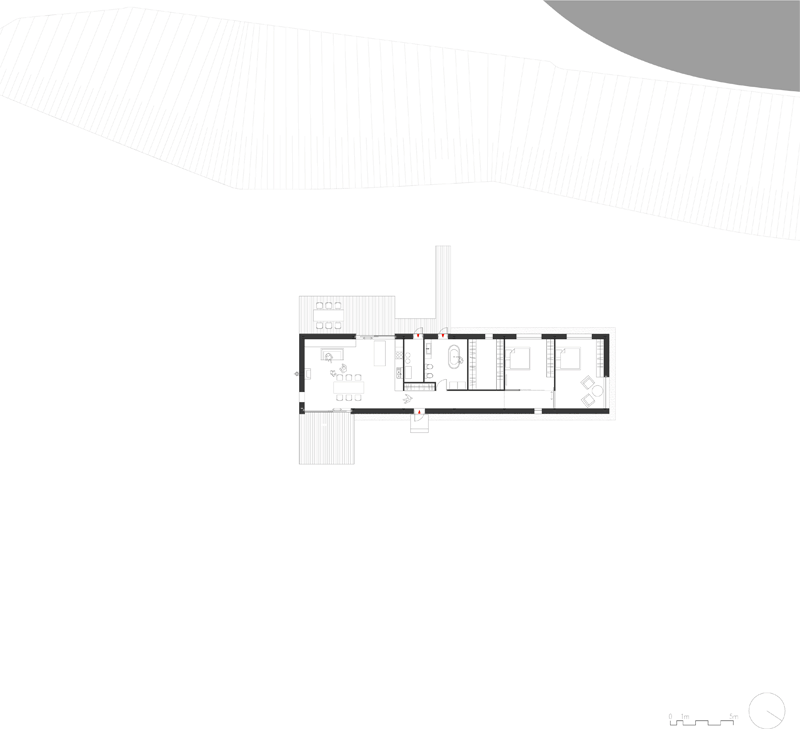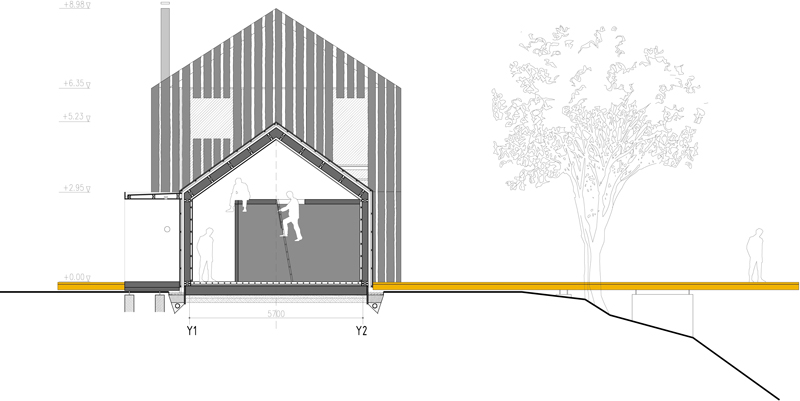 Guest house


Sauna house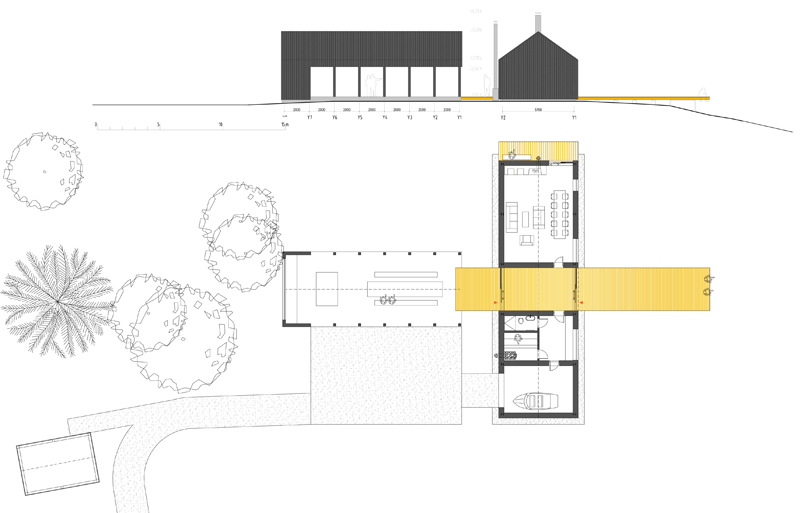 8 BLACKS identity sign that appears on the main entrance wall, is made by modifying site plan and thereby obtaining the sign of the complex. By multiplication and combination, one gets a drawing, which will be set up on the white wall of master's bathroom.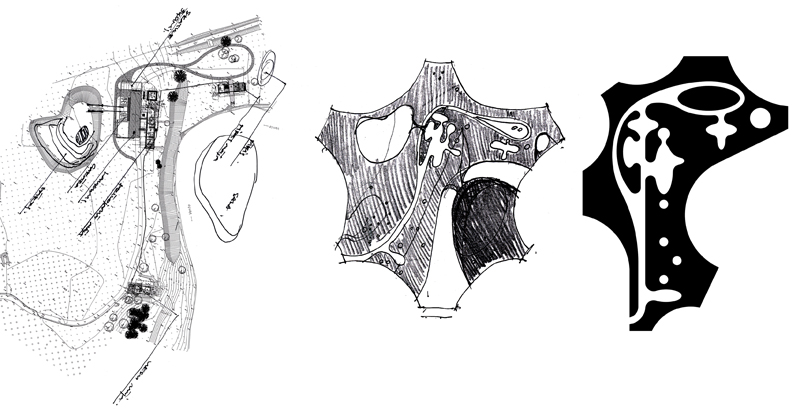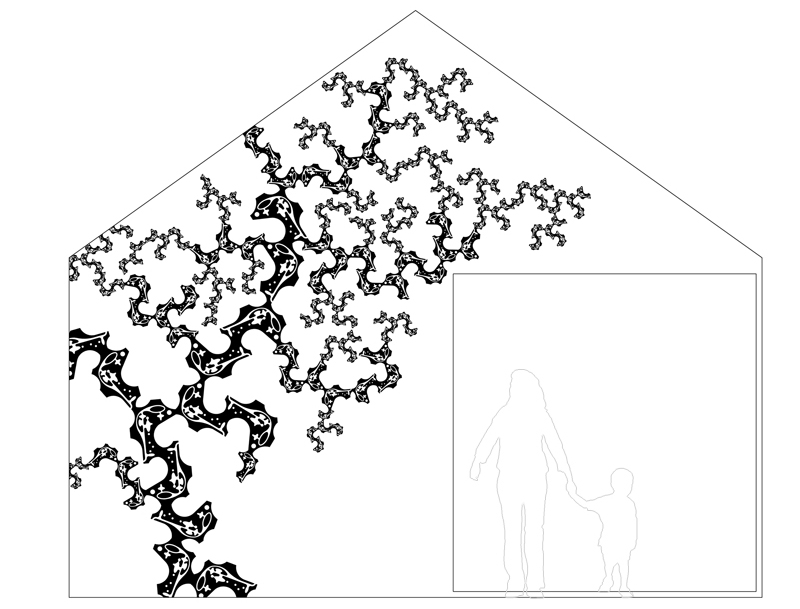 ART

2011-07-04 19:03:20

http://www.arthitectural.com/nrja-8-blacks/

KARMATRENDZ

2011-06-21 14:23:12

http://karmatrendz.wordpress.com/2011/06/18/8-blacks-by-nrja/

PINTADA DE NEGRO

2011-06-14 01:19:17

http://www.lignumfacile.es/index.php?option=com_content&task=view&id=850&Itemid=119&idth=291

LA

2011-06-14 01:08:15

http://la.lv/index.php?option=com_content&view=article&id=317162:l8-melnier-starp-debesm-un-zemi&Itemid=155

PLANOSDECASAS

2011-06-14 01:02:16

http://planosdecasas.net/8-negras-nrja/

8 NEGRAS

2011-06-14 00:57:15

http://noticias.arq.com.mx/Detalles/12055.html

HOUSEARQUITECTURA

2011-06-14 00:47:28

http://www.housearquitectura.com/contemporary-and-unique-house-design-in-latvia-by-nrja-architecture/

HOUSEARQUITECTURA

2011-06-14 00:44:56

http://www.housearquitectura.com/contemporary-and-unique-house-design-in-latvia-by-nrja-architecture/

DHOUSE

2011-05-08 13:33:32

http://dhousedesign.com/the-simple-house-plan-in-latvia/

HIC

2011-05-08 13:33:06

http://www.hicarquitectura.com/2011/05/nrja-8-blacks.html

HIC

2011-05-08 13:28:24

http://www.hicarquitectura.com/2011/05/nrja-8-blacks.html

HUNGRY

2011-05-08 13:25:15

http://thehungryarchitect.tumblr.com/post/5278909529/sheslostctrl-8-blacks-kuldigas-latvia-by

MYFURNITURE

2011-05-06 00:03:53

http://www.myfurnitureshowroom.net/compound-model-home-plan-in-latvia.html

MYFURNITURE

2011-05-05 23:52:43

http://www.myfurnitureshowroom.net/compound-model-home-plan-in-latvia.html

COMPOUND-STYLE-HOUSE

2011-04-27 19:33:14

http://www.trendir.com/house-design/compound-style-house-plan-in-latvia.html

BLACK HOUSES

2011-04-25 23:30:58

http://contemporaryliving-audrie.blogspot.com/2011/04/black-houses.html

ARCHIVE

2011-04-20 14:29:01

http://www.thearchhive.com/?p=4179

A PEACE OF MIND

2011-04-18 12:32:56

http://hyanart.tumblr.com/post/4357307987/8-blacks-nrja

INDIEšU DRAUGS

2011-04-18 12:15:54

http://www10.aeccafe.com/blogs/arch-showcase/2011/04/15/8-blacks-in-kuldigas-latvia-by-nrja-architects/

LAB

2011-04-06 21:33:28

http://architecturelab.net/8-blacks-kurzeme-latvia-by-nrja-15668/

SOSEDJI

2011-04-06 09:12:28

http://www.magazindomov.ru/2011/04/05/zhiloj-kompleks-v-latvii/

SOSEDJI

2011-04-05 23:19:03

http://www.magazindomov.ru/2011/04/05/zhiloj-kompleks-v-latvii/

ARCSTREET

2011-04-05 09:10:36

http://www.arcstreet.com/article-8-blacks-nrja-70923081.html

ARCHDAILY

2011-04-05 00:49:06

http://www.archdaily.com/124290/8-blacks-nrja/

FRAME

2011-04-03 17:31:01

8BLACKS - iekš FRAME http://www.framemag.com/news/1968/8-Blacks-by-NRJA.html

RīDZINIEKS

2011-04-03 12:26:54

oi! kolosāls pārsteigums šajā laikā, kad šķietami nekas nenotiek un viss ir slikti. man patīk! un lietotājiem patīk! un autoriem patīk! vai ir vēl spēcīgāks arguments, kad patīk? apsveicu, izcils pienesums!

JOU

2011-04-01 13:35:44

http://europaconcorsi.com/ http://europaconcorsi.com/projects/162023-8-BLACKS

FLAMINGO

2011-03-30 15:56:03

Bez visa laba, kas nenoliedzami ir klatesoss saja projekta (jeb organiski apaudzeta projektu kopuma?), luk par to, kas apsaubams un divains: Ja mazliet banali klasificejam izpildijumu trijas kategorijas, tad, pec publicetajiem materialiem spriezot, redzams izteikts arhitekturas dizains, savukart padzilinata attieksme pret ainavas dizainu un interjera dizainu skietami neeksiste. Lai ari nevar noliegt, ka daudziem familiara 2000o gadu skunu arhitektura define interjeru pati par sevi, ir redzams, ka ar to ir par maz, ipasi sada maza meroga un skietami personiga rakstura vide. 'Moderna Kurzemes seta' noklata lielos laukumos ar pilsetas brugi, radot sajutu, ka ir Kurzemes ainava injicets privatmaju komplekss no kada pierigas gulamrajona. Apkartni nosedz gandriz vienmerigi nogriezts, zals 'paklajs', kas degrade izteiktas topogarfijas autentiskumu, ka ari pazudina ainavas sugestetas attiecibas starp ekam, vietam un funkcionaliem scenarijiem. Interjera skati rada jautajumus par materialitati, kura tapat ka ainava iemeso divainu sajaukumu starp urbanu vidi un neizkoptu ziemelu pseido-aksetismu, kas neparliecinosi sapludinats ar japanu 'maja-maja' principu. Redzama balinata betona grida ar sterili baltam sienam apvienojuma ar melnu, skietami saplaksna apdari, kas negribigi atgadina par devindesmito gadu vidus biroju furnituras estetiku. Papildinajuma arhitekturas zurnalos lidz banalitatei tirazetie Vitra's Charles and Ray Eames modernisma laikmeta kresli sugeste jebko, bet ne lokalas, modernas un personigas lauku setas atributiku. Pretrunigo attiecibu starp interjeru un apkartni labi parada fotografija, kura redzami ne-lokali telpaugi, kas nostaditi kliniski balta interjera blakus vannai ar skatu uz realitivi neskartu Kurzemes ainavu. Nevar noliegt, ka si ir seta ir moderna, un drosi vien ari Kurzemes. Tomer, skietami eku kompleksa izaugsme ir pielagota primitivi utilitaram vajadzibam, liela mera ignorejot ainavu un Vietu; vietas legendu. Arhitektura ka kolaza, kura ne vienmer saskanigi sampleti fragmenti no laikmetigas arhitekturas mediju reglamenteta imidza par to kadai 'jabut' sodienas ekai. Varbut mazak skatoties kas ir citur, un vairak ieskatoties kas ir uz vietas; aspratigi reinterpretejot to butu izdevies daudz jutigaks gala produkts. Neskatoties uz to, primitivi izteiksmigas 'terasu laipas' ar neierobezoto skatu uz apkartni ir iespejams vislielaka 8 blacks kvalitate.