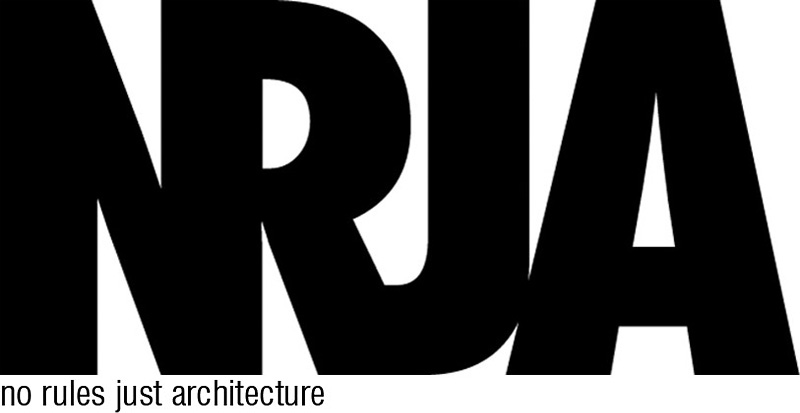 COMPETITION ENTRY FOR CEMETERY IN JÄRVA COMMON, STOCKHOLM


Cemeteries have long been living in peoples minds with the symbolic importance and an ongoing commitment and hope for immortality.

The new Järva cemetery will become a place where the identity of the site is already defined by environmental quality and biodiversity (the open landscape with meadows, clusters of trees) and the historical importance of the area (archaeological monuments), as well as a strong feeling of recreation site.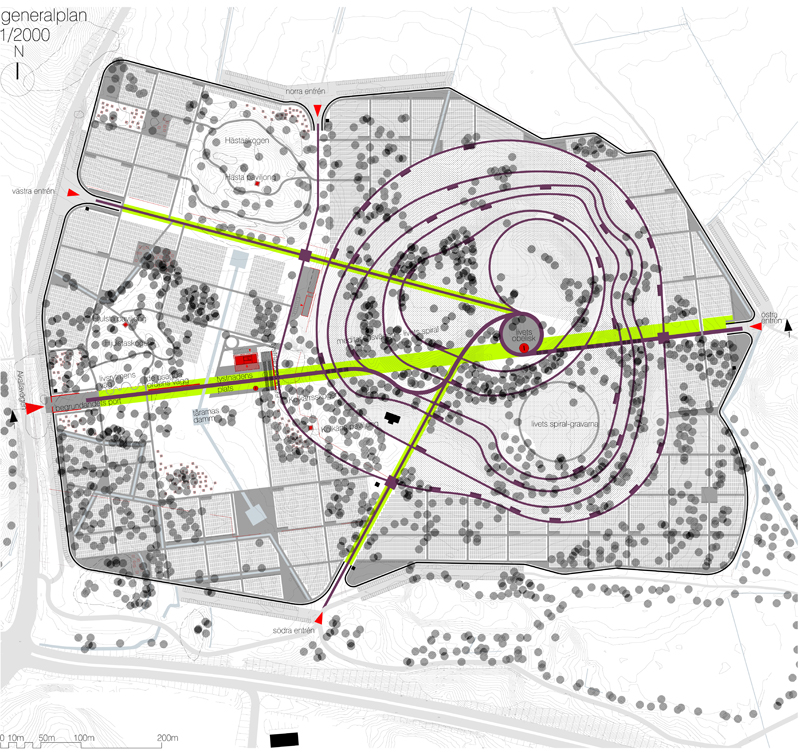 ENTRANCE VIEW

NIGHT VIEW TOWARDS NEW CHAPEL
The project proposal intends to create a place where the feeling of space is concentrated on the memory about deceased. The cemetery will become a park of reflection, a meditation place, with a statement that the end of life is only the beginning of another road.

HJULSTA PAVILLION MARKING VIKING BURIAL PLACE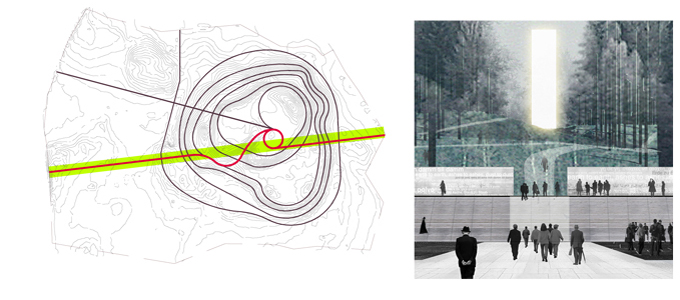 MAIN AXIS
The main axis – meditation road – is located in the east-west direction, marking the beginning of the cemetery road and ending with a vertical dominance – light obelisk – on top of Granholmstoppen hill. 5 new entrances are planned with car parks besides; a new parking area for service staff is located near the new chapel.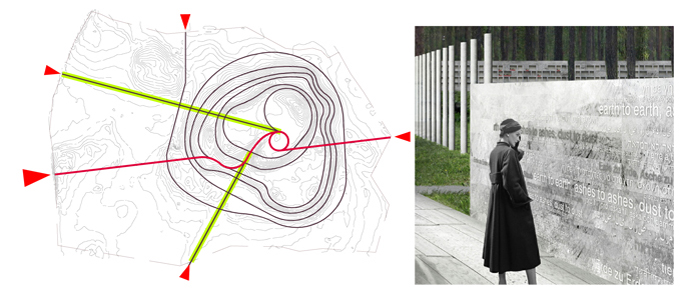 PLANNED ENTRIES
The proposal respects archeological monuments and existing public park areas. To preserve the memory and to promote awareness of archeological monuments – Viking burial places – new memorial and meditation spots are planned along pedestrian pathways. A new chapel for 50 – 500 visitors is planned along the meditation road with covered terrace and several halls for commemoration of the deceased. Existing ditches are maintained and three new pond created in the southern part of the territory with pedestrian path around them.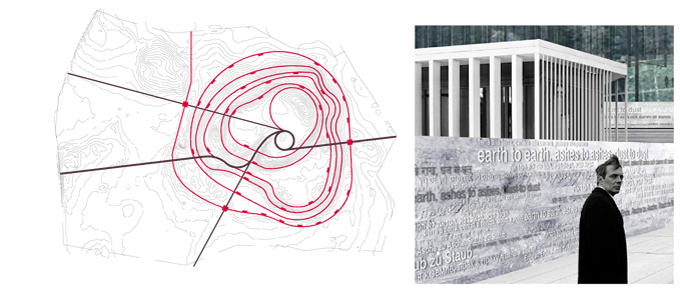 LIFE SPIRAL - MEDITATION ROAD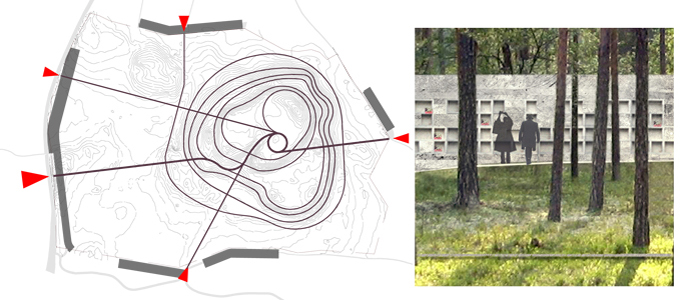 CAR PARK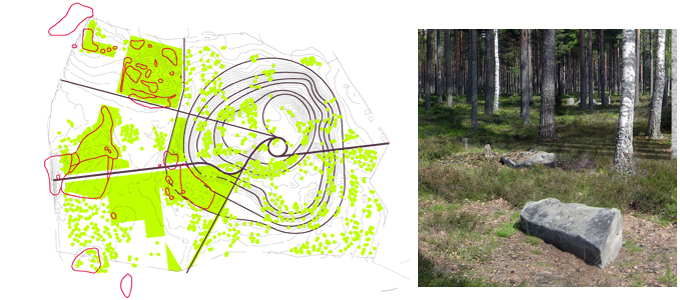 PUBLIC SPACE AND ARCHAEOLOGIC MONUMENTS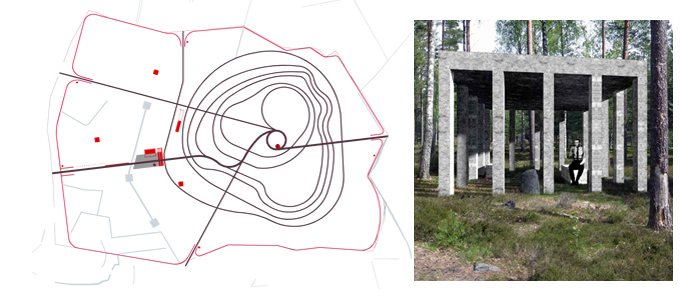 PLANNED BUILDINGS AND WATER IRRIGATION SYSTEM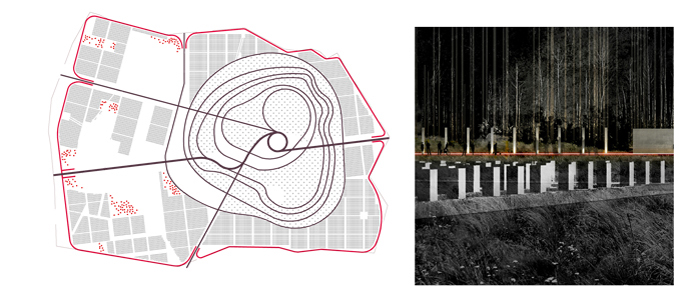 BURIAL SCHEME
The project proposes several types and possibilities for burial. The regular division of flat burial graves (lawn graves) provides the opportunity for simple management, navigation and maintenance. This solution is appropriate, bearing in mind the diversity of beliefs in Sweden, further clarifying the possible design of grave location and orientation. Parts of graves are planned on Granholmstoppen hill. Burial wall/ niches around the whole area also serve as a boundary to isolate the area from the highway noise. There are several areas planned for vertical, free-standing burial niches, and ash discharge sites with places for meditation.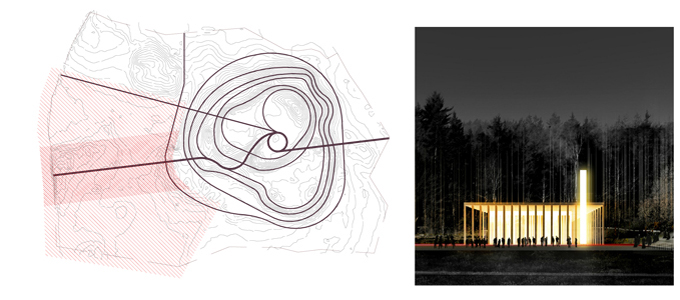 STAGE 1
Total area: 420000.0 sqm
Total grave number: approx. 100 000

Stage 1 area: 50000 sqm
Grave number for stage 1: approx. 10 000
MORE INFO ABOUT COMPETITION IS HERE

ARQUITECTURABETA

2012-03-28 16:13:49

http://www.arquitecturabeta.com/2012/03/28/cemetery-in-jarva-common-njra/